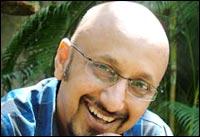 For Lucknow-born Shantanu Moitra, composing the score for Vidhu Vinod Chopra's Saif Ali Khan starrer Parineeta was a dream come true. The 37 year old had always "fantasised about Kolkata in the 1960s -- a Mecca of jazz, blues in India. Parineeta for me was the closest to being transported back to that time."
So when you ask him what he was thinking when asked to compose a nightclub song, pat comes the reply: "Usha Uthup." Was he trying to visualise Trincas -- a watering hole on Park Street -- that was once the place to go for wine and song? "Absolutely. Trincas, Moulin Rouge, Blue Fox." For the Calcutta dipso, these are lip-smacking familiarities.
Moitra insists he is a Bengali at heart and soul, "but not of the Calcutta kind." And as he runs his hand over his shaved pate, the newcomer music director recalls a foray into music that was sheer serendipity.
He was discouraged about music as a profession because he came from a family that had seen the "direct co-relation between Indian classical music and poverty." His father came from a musical family, and the Moitras lived opposite legendary musician Ustad Alauddin Khan's house in Lucknow.
| | |
| --- | --- |
| | More on rediff.com! |
| | |
So Moitra nursed his "serious hobby," forming a band in Chittaranjan Park in Delhi -- where he had moved to in class IV -- and tripping on Illayaraja, Salil Chowdhury, S D Burman and the BBC World Service. The radio, with its music from across the globe, "was my passport to the world."
He did his graduation in economics from Delhi University and became a client servicing executive at an ad agency. But, as John Lennon put it, 'life is what happens to you when you're busy making other plans.'
One day, there was an office crisis: a jingle needed to be composed at the last minute. Moitra's boss remembered his "bio-data had an extra-curricular activities section." Moitra was propped up as a stopgap composer to Pradeep Sarkar, the director of Parineeta, who was then the creative head of the ad agency.
"I still remember that meeting with Pradeep, completely disgusted with this client servicing guy walking up, trying to be a musician," recalls Moitra, 37, a day before he is to fly to Amsterdam for the premiere of Parineeta.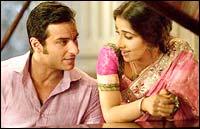 "He (Sarkar) told me, 'I have two lines; do you think you can compose?' I said, 'What are the lines?' He said, 'Bole mere lips. I love Uncle Chipps.'"
Many jingles later came another serendipitous incident, a trip to a world folk music festival in Almaty, Kazakhstan. At that time, "this whole idea of using classical, folk sound on a bass of a groove or something like that was forming in my head, but I couldn't pinpoint the sound."
At Almaty, he saw "32 countries doing what I had in mind."
Moitra came back with the idea of Ab Ke Sawan forming in his head. He was very clear he wanted Shubha Mudgal's voice: Virgin records had just come to India. "Atul Churamani (the record label's India chief) was a great fan of Shubha Mudgal, so my life became easier."
The album "did a lot of good things for me." But he didn't want to come to Mumbai. "I was happy with my own world, fiercely possessive about Chittaranjan Park."
Man Ki Manjire, his second album, followed, as did a lot of travel. "Again my whole funda of folk music, travel, this kink that I have, I was trying to re-live that."
Then came realisation "that this idealism of doing what I want to do, beyond a point, is not working commercially. I realised I need a much more popular platform."
Director Sudhir Mishra had heard Ab Ke Sawan. He gave Moitra the job of composing the music of Hazaron Khwaishen Aisi.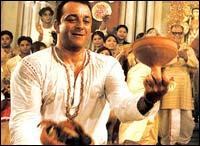 He composed three songs for another Chittaranjan Park-er Somnath Sen's film Leela. But "I wanted to do a project which was Bengali, big time. I wanted to do a Bengali film so badly. But their budgets were so pathetic."
Then Sarkar told Moitra he was doing Parineeta. "It was quite obvious he would ask me to do the score, with a catch -- everything had to be approved by Vidhu Vonod Chopra. I had recorded a song called Raat Hamari To. Mr Chopra loved it. He asked me to do that project on the basis of that song."
What followed was a "month-and-a-half of what I call my graduation from UCLA. Vidhu Vinod Chopra Productions for me was a complete film school."
The music director learnt "what is cinema, why cinema" and "how to think the character."
"There was a line Yeh Hawaye Gungunaye. The way I was doing it was very flamboyant, very Rajesh Khanna. He (Chopra) said, 'Saif will never do this. That's not him.' These were things that were completely new to me."
But Chopra gave Moitra a free hand. "He never gave me any song as reference. And never a sentence saying audience ko yeh chahiye." What he got instead was a "firm belief: That if you do well, the audience will follow you."
Moitra agrees with Chopra's dictum that "there is nothing more nebulous in an economic structure than man -- his tastes, his interests, his beliefs keep changing day to day. How can you ever formulate a theory keeping them in mind?"
For Parineeta's six songs, the director, the producer, the music director and the lyricist sat together, every day. "Somewhere down the line, individual designations ceased to exist, and it was just kind of jamming."
Moitra, who idolises John Williams as a soundtrack composer, believes the Bollywood music scene is "much better than what it was 10 years ago."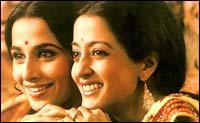 "Because people are now asking questions. And thanks to PVR (multiplexes) I don't have the responsibility of what the panwallah is going to listen to. Bullshit. I don't eat dinner with a panwallah, I don't buy the same clothes a panwallah does. Why the hell should I make music for him?"
What if the movie is being made for the panwallah, may be? "May be. A panwallah can like Star Wars. We always make this mistake, whenever we work on demographic profiles, we put them where we thought they were 20 years back. No, they have moved up. He (a panwallah) doesn't have a transistor radio any more, there is a television set there. He is completely globally conscious," says Moitra.
"So let's not underestimate him or put him down because I want to sell something which is shit."