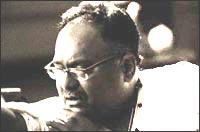 Pradeep Sarkar may have realised his dream of becoming a feature film director with Parineeta, but there were days it seemed like a nightmare.
On one day, his crew thought he would have a heart attack. The shooting was on at the Sealdah station in Kolkata. The crew had managed to set up their equipment with great difficulty. But when they were ready to shoot, the engine came in facing the wrong direction.
"It was disastrous," Pradeep says. "I lost it completely then. The train would have to go to another station, turn around and then come back. That would take about 12 to 13 hours. But because I was shouting like an animal, it was done in a couple of minutes! Now, it seems like such a humourous situation."
| | |
| --- | --- |
| | More on rediff.com! |
| | |
The 50-year-old director had first approached Vidhu Vinod Chopra with another story idea based on Saratchandra Chatterjee's classic novel, Parineeta. "When I was talking to Mr Chopra, he asked me where I got the story from. I told him that I was influenced by Parineeta. So he said, 'why not make Parineeta itself?' "

That was two and a half years ago.

Later, both of them read the novel and watched the different versions of the film.

"Watching those films helped us understand the strengths of the movies and what we could achieve," the director explains.

It took them a year and a half -- and many meetings -- to write the screenplay.

Choosing the actors was not difficult, says Sarkar. "Saif is exactly like Shekhar -- his way of life, a nawab ka beta. Girish is a hero. He went through difficult patches in his life, and came out of it on his own. Like Sanjay Dutt. It was almost like a replay. Vidya is the typical Indian woman – lots of passion, love, empathy, strength…"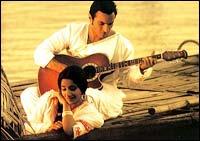 Picking a favourite scene from his first film is very difficult for Sarkar. Yet, he can't stop loving the film's first scene. "It is a scene with Saif and Vidya. It was one of the test scenes that we had done right in the beginning, before the actual shoot, when we were deciding if the film would be a period film or a contemporary one. This scene is so rehearsed and yet it came out so natural."
On the time period juggling, the director says, "I belong to the 1960s. That's why Parineeta is based in that period. That was when I became a teenager, went from school to college, fell in love. I know the moments, the feelings, the nuances, gestures. You will see all this in Parineeta. When people make films, they are just replaying their experiences."
Sarkar is also the art director of the film. "Art direction is my profession and passion. It's mainly framing. It's a gift. I frame very naturally. I've also been trained to do so. It's not a pesha (profession) for me, it's a nasha (addiction)."
His association with Chopra goes a long way back, much before Parineeta. "I was in Delhi in those days. I got a call from Mr Chopra's office, and I came down to meet him. He told me that he had seen some music videos on television, and wanted to meet the directors of all of them. It so happened that all the videos were mine! That was really strange," he says.
Sarkar went on to shoot three songs of Mission Kashmir -- Bhumro, Rind posh maal and Soche ke jheelon ka.
After a year and a half, the duo bumped into each other again in Mumbai's Dhobi Ghat, where Munnabhai MBBS was being shot. Sarkar was shooting an ad in the same area.
"Mr Chopra came to my sets and sang Chan chan (a song from Munnabhai) to me. Then he asked me to shoot that song. That's how our friendship was revived. That was the time when I was looking for someone to look up to, to share my troubles, and what I want to do. He became my guru."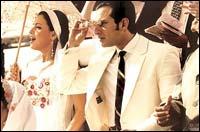 Sarkar started his career in the ad world. A creative writer and maker of such ads like Cadburys (the one with the tag line: Pappu paas ho gaya), Coke (where Aamir Khan plays a Bengali) and Horlicks. It was in advertising that he first met Shantanu Moitra, the music director of Parineeta.
"He came in as an account executive, which is actually client servicing. One day, I remember someone told me that this new guy had made a tune. I was quite surprised, but I listened to it. It was awesome. His sense of melody is very nice. It comes very naturally to him," he says.
"I've known him for a long time. There were days when we would dream of doing something like this. We wanted to get away from what we were doing and do what we loved," Sarkar chuckles.
"I haven't actually shifted to feature film making now. The medium of storytelling is the same. I'm still shooting ads. I'm just on a different canvas. It's a dream for any filmmaker to make a feature film, and that was fulfilled by Mr Chopra. He used to tell Raju (Rajkumar Hirani, director of Munnabhai MBBS) and me, 'I did not have a Vidhu Vinod Chopra, but you have.' That is why we could make a feature film."