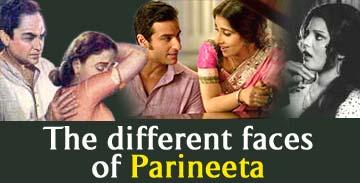 Like Sarat Chandra Chattopadhyay's Devdas, his other book Parineeta has also been filmed in Hindi thrice.
And both the novels have shared the same director for one of its versions -- Bimal Roy made Parineeta in 1953 and Devdas in 1955.
The second version of the film was not named Parineeta. Instead, this Anil Ganguly film (in 1976) was called Sankoch.
Parineeta will be filmed for the fifth time in 2005 (it was also made in Bengali twice), by debutant director Pradeep Sarkar, and produced by Vidhu Vinod Chopra. It stars Saif Ali Khan, Sanjay Dutt, Raima Sen, Dia Mirza and Vidya Balan.
rediff.com takes a look at the different faces of Parineeta.

Director: Bimal Roy
Cast: Ashok Kumar, Meena Kumari, Asit Baran, Nassir Hussain, Badri Prasad
Plot: A black and white film, this Parineeta was produced by Ashok Kumar.
Based in Calcutta, Shekhar (Ashok Kumar), the son of rich businessman Nabin Rai (Prasad) secretly marries his poor neighbour Lalita (Meena Kumari), the niece of Gurucharan Babu (Nassir Hussain).
The relation between the two families gets affected when Gurucharan is forced to repay his debt and he decides to marry off Lalita to Girin Babu (Asit Baran).
Lalita confesses that she is married, but refuses to disclose her husband's name. Meanwhile, Shekhar thinks that Lalita is cheating him, and will marry Girin Babu.
In the end, all ends well.

Director: Anil Ganguly
Cast: Jeetendra, Sulakshana Pandit, Vikram
Plot: While Sankoch is based on the same novel, it tells a slightly different story.
Shekhar (Jeetendra) is rich man Navin Babu's son. When Shekhar and Lalita (Sulakshna Pandit) attend a doll's wedding as children, Lalita puts a garland around Shekhar's neck. He does the same, and Lalita starts thinking of Shekhar as her husband.
Then Gurucharan, Lalita's poor uncle, is asked to repay his debts. Girish (Vikram) bails him out.
Gurucharan later dies asking Girish to marry Lalita.
When Lalita gets married to Girish, Shekhar also marries a girl whom his father has selected.

Director: Pradeep Sarkar
Cast: Saif Ali Khan, Sanjay Dutt, Vidya Balan, Raima Sen, Dia Mirza
Plot: Set in the early 1960s in Kolkata, Shekhar (Saif Khan) falls in love with his neighbour Lalita, an orphan (Vidya Balan).
But he does not realise he is in love with her until Girish (Sanjay Dutt) enters their life. This film will release on June 10.
Parineeta was also made twice in Bengali. The first movie was made in 1942 by Pashupati Chatterjee, and the second one was made in 1969 by Ajoy Kar.