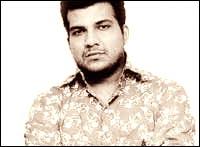 A lot of advertising people enter filmmaking, but very few of them do it quite like Vishram Sawant.
From doing the publicity for Ram Gopal Varma's Bhoot, he's graduated to helming his first feature, D, for Ramu's Factory.
In an interview with Patcy N, he describes how he turned into a director, Chunky Pandey's different role, and why the film is called D. Excerpts:
My career started with advertising. Then I moved to photography, and then film publicity. This is how I got to know Ramuji. I worked with him on Bhoot for the film's publicity.
| | |
| --- | --- |
| | More on rediff.com! |
| | |
I showed him some stills and promos for the film. We had a lot of discussions and he liked my promos. After showing him a lot of work, I went to him with the concept of D. He liked it. We improved on it and then wrote a script.

Randeep Hooda was finalised (for the role) as we wanted a guy who would look like he has the obsession to do something; he should become a gangster on purpose. He should think and decide that he wants to become a gangster.

Randeep impressed us the most for this role. His performance, his presence was felt in the movie. According to that, Ramuji and I prepared the entire structure of the film -- the whole movie is based on Randeep. I enjoyed working with him, he is really a good actor.

Chunky Pandey is doing a role he wasn't originally finalised for. But he's given a realistic role. He has never done this type of a role before. He has acted well.

Isha Koppikar has accepted the challenge well too. My entire cast has satisfied us and everyone has done a great job.

The first time Ramuji saw the film, he was very excited. He told me, 'I have not seen such a movie in the last five years!'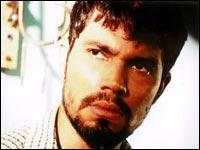 He never interfered during the making of the film. He saw the film only after the first half was over. That in our life is the most cherished moment for Randeep and me, as we are newcomers.
Ramuji never came on the sets. He just came during the pack-up party. He appreciated our work and suggested some changes after seeing the first half.
He was always involved in the discussions. We have used his experience in making this movie. We have improved on the script constantly. Time and again we would sit and discuss it, and add new things to it. That was one more reason why it took so long to be made.
We shot some scenes in the rain, which was difficult as you don't get proper light for such scenes. And the camera is also not safe at these times, so we had to struggle a lot. We shot on actual locations; in D there were no sets. We shot entirely in Mumbai, in around 50 different locations.
When Company was made, Ramuji and I liked Malik's (Ajay Devgan) character in the film. So Ramuji told me, 'Why not make a film on young Malik?' 
D is the journey of a young guy, Deshu, from a very ordinary family. He decides that he wants to be a gangster and takes it up as a career. And how he progresses and makes his identity -- that is what the film is all about.
This film is not inspired from any other film. If it has any resemblance, it is with Company.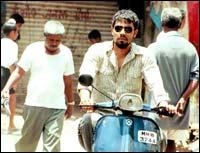 It is not an exact prequel, it's only thought like a prequel. I didn't use any stars from Company because I didn't want audiences to get confused.
I am not tense about Randeep, a newcomer, having to carry the movie, as he has impressed us a lot. He has given good results, and people have liked the promos. Randeep was fit for the script.
When I cast Rukhsar, I didn't know her background, or whether she had acted in films before. She was perfect for the script, so I took her. I wanted a mature relationship between her and Deshu, and felt she can do it.
The film is called D because it is Deshu's story. If it was Anil's story, we would have called the film 'A'.
D is an entertaining film, I wouldn't call it dark. This is a 100 percent commercial movie. It has it all -- action, emotions -- whatever is required in a movie.