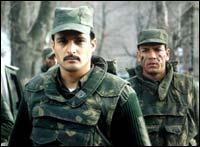 War films are tough nuts to crack.
Either you have to be bursting at the seams with gritty realism, a la Schindler's List, or you can trip gaily into jingoistic escapism, like Rambo or Mission: Kashmir. Both are pitfalls: a director falls into the former because of usually overreaching ambition, and usually falls short; and the latter, because of typically blasé blockbuster attitude.
Shoojit Sircar, on his directorial debut, has commendably avoided both these traps, setting instead into a reasonably acceptable middle-ground – a love story set in a familiar war and terrorism backdrop, shot with grit and coolness, enough to make you believe the film is almost for real.
| | |
| --- | --- |
| | More on rediff.com ! |
| | |
The film is set in perpetually war-savaged Kashmir, and doesn't shatter any stereotypes. Derivative eventually of Mani Rathnam's Roja, the film continues a clichéd look at the Kashmir Bollywood has acquainted us with so often.
"You must be from a public school, from a metro like Delhi or Mumbai. You do not know what Kashmir is," sneers (paraphrased, and translated) Yashpal Sharma, the militant. All right, kind sir, agreed one hundred percent. Would you like to tell us?
Well, it's like this…
But then the director trails off, for there is no time for depth. This is not a film about war itself, but instead a romance, a Love In The Clime Of Kashmir. The Bard's immortal balcony sequence is replayed out as our protagonists meet, Captain Aman (Jimmy Shergill) and Adaa (Minissha Lamba), over chai (more Ratnam? Dil Se, Shoojit?) and torchlight. Sparks fly instantly between the two smile-suppressing lovers, and the rest is what fairytales aren't really made of.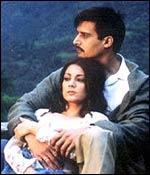 The romance unfolds sweetly enough, requesting momentary lapses of reasonability as young Adaa changes a half-dozen different dresses to earn a favourable rating in the Captain's log. There isn't much conversation, both parties visibly satisfied by gazing longingly at each other for the most part. But hey, in the midst of grenades and mortar, this is possibly as real as love gets.
Jimmy Shergill does well as the earnest young Captain. While the role doesn't offer him histrionics of great note, the actor does come off well showing a dignified restraint very rare to Bollywood. This is an actor who deserves more films. Minissha Lamba is pretty, and would have had a far better debut if she occasionally stopped smiling. Especially considering her decidedly tragic existence. As it turns out, her lines have the credibility of a schoolgirl at a play. The supporting cast is quite excellent, though we see a few faces playing roles they're extremely used to.
Shoojit's greatest strength in the film is his storyboarding. The frames are laid-out meticulously, in solidly composed shots boasting of Sircar's advertising folio. The finest move is the handheld look to Yahaan, cloaked in blue and contrasted well with light, creating a starkly different visual feel for the film, giving it a unique edge not seen before in Indian war cinema – a very European treatment.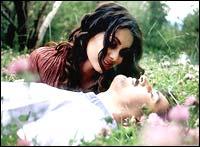 The script is adequate enough, and doesn't even aim at being spectacular. It has its moments of cliché, but comes off as pretty realistic overall. Without trying to inform or elucidate, the film soldiers on with its war-as-backdrop routine, tossing in some pretty nifty army detailing along the way. Perhaps Farhan Akhtar, the man who made the disastrous Lakshya, could do with a watch.
The end of the film is oversimplified and drops into maudlin territory, but we don't mind this so much. By the time the languorously flowing film has reached this point, we're pretty much apathetic to the protagonists and the characters. We loved the early shots of the Dal lake, winced the first time a kid was shot, and smiled indulgently as the two kids embarked on wistful love.
By the time the end comes along, however, we're more than done with Yahaan, and wanna go someplace else.