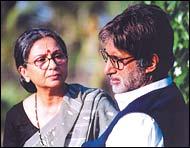 For a die-hard Amitabh Bachchan addict, there can be nothing more frustrating than to see this amazingly talented actor come up with yet another going-through-the-motions performance in yet another ordinary film.

And, just as I console myself, saying okay, the man must have his reasons for doing what he is doing -- BANG! Mr Bachchan will turn all my theories on their collective head with another superlative performance.

He does it again in today's release, Viruddh, a film in which he is both the star and the soul.
Acting with Big B, Sharmila, and John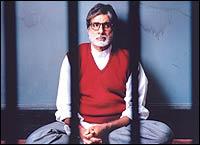 He reigns, in particular, in the film's engaging first half -- within the first few minutes itself, you are drawn into the comfortably warm world of Vidyadhar (Amitabh) and Sumitra Patwardhar (charmingly played by Sharmila Tagore).

Their banter, their daily routine underline a bond built over the years. Viruddh's first half rides on the talent of these two veteran actors and on their ability to bring their characters to the fore. They really look like a couple who, having faced the vicissitudes of life, are now in complete harmony with each other. I love the fact that the dignified Sharmila Tagore, unlike many senior actresses of our time, does not feel the need to look ultra-glamorous or hide her wrinkles.

And, when their son Amar (John Abraham) returns home from London with a British girlfriend, it does not take the Patwardhars any time to welcome her into their loving fold.

Tragedy has to strike, and it does, with Amar being killed when he witnesses a crime.
AB: Sixth time lucky with Viruddh?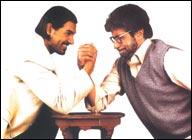 Amar is an only child, and his death is a huge blow to his parents. Unfortunately, Amar's death seems to have struck a bigger blow to the crew of the film -- especially director Mahesh V Manjrekar, screenplay writer Yash Vinay and dialogue writer Sanjay Pawar, all of who did a commendable job pre-interval.

It's a downward spiral as Viruddh enters its melodramatic, post-interval phase and Vidyadhar battles for justice.

The only thing that stands out in the film's second half, again, is the Amitabh-Sharmila duo. In the first half, Sumitra is the leader among the two. As crisis after crisis strikes the family, it is Vidyadhar who takes charge -- the transformation is completely believable.

What is unbelievable is the paucity in the script, in the acts of some of the characters, in the action that Vidyadhar ultimately takes and, finally, in the way the court rules. For a film that claims to be rooted in reality, many portions of the second half seem born of wishful thinking.

Yet, I would recommend you see the film -- especially for its entertaining first half.

And for Amitabh Bachchan.

And for Sharmila Tagore.

John Abraham's fans won't be disappointed -- he looks drool-worthy as usual (hey, let me know if you spot Bipasha Basu in the film).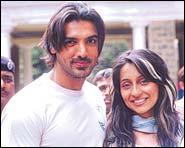 Director Manjrekar has the knack of building a believable family atmosphere -- vide Astitva, Vaastav and, now, Viruddh. Sadly, he seems to have forgotten how to capitalise on it.

The tragedy of an only child's unnecessary death never comes through.

The brutality of the system does not come through.

The crushing weight of the battle for justice -- so poignantly brought to the fore in Dhoop -- never comes through.

Instead, one is left with questions:

Why is the film called Viruddh… family comes first?

Why does the inspector (Sachin Khedekar wasted in an inconsequential role), who begins the film with a speech about how Vidyadhar is doing what he should do, change colours so often?

Why are the product placements (I can understand the need) so inappropriately placed? Do you really need a product placement soon after a death?

Why waste actors of the calibre of Prem Chopra, Shivaji Sattam and Sharad Saxena in roles that seem almost like those of extras?

Most important: will someone tell me what Sanjay Dutt was doing in the film?