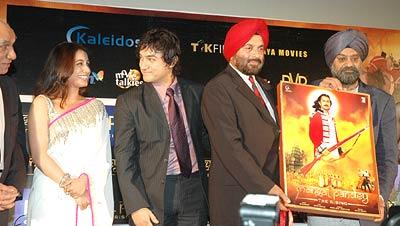 Chief of Army Staff General J J Singh released the music of Aamir Khan's
Mangal Pangey
at Priya PVR Cinema, New Delhi, on Thursday night.
The much-hyped film is produced by Bobby Bedi.
Bedi presented the first copy of the music to filmmaker Yash Chopra, whose Yash Raj Films holds the rights to distribute the film and music in India and aborad.

Aamir, who plays Mangal Pandey, the sepoy who revolted against the British colonisers, said he hoped the younger generation would learn from the film and the illustrious freedom fighter.
"This is the right time for the release of a film like this because whether it be Afganistan or Iraq, we see foreign powers trying to impose their administration on local people," the star said. "I feel privileged to have accepted the film and having done the role of Mangal Pandey. (Director) Ketan Mehta has done a wonderful job and it is wrong to say that I was an invisible director," he added.

The film also stars Rani Mukerji, Amisha Patel and British actor Tobey Stephens.
Rani, who plays Heera, a prostitute, in the film, said, "The role demanded that my body language be different and the movements be spontenous. I wish that they (prostitutes) were treated with more respect. If I ever get a chance to do something for them, I would not hesitate from helping them."
"I would like to express my gratitude to the Indian film industry for recreating the period of 1857, which marked the beginning of the Indian Independence movement," General Singh said. "Mangal Pandey was a righteous character and he rebelled against the British and ignited the sparks that helped us overthrow the British," he added.

The film hits theatres on August 12, with an eye on the Independence Day weekend. "With a long weekend, we hope to do good business in the first week. This started as a large project and continued to grow larger and larger," Bedi said.

Javed Akhtar has written the lyrics of the seven songs and A R Rahman has composed the music.
"If you take out the songs, there is nothing left in the film," Rahman said. "I wanted to have a large orchestra and I told Bobby about my requirements. He said I could record the songs anywhere in the world. They were finally recorded in Prague. The most difficult composition in the film was the mujra."

Aamir also sings a song in Mangal Pandey. "It's Rahman's fault," he laughed, "He felt I should sing. Whenever something goes wrong, we blame Rahman for it!"
Interestingly, the last time Aamir had sung for a film, it also starred Rani. And Aati Kya Khandala, from the film, Ghulam, had been a rage.