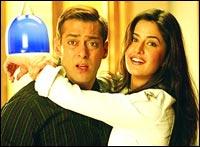 Do you know why popcorn is legendary food? Because it's crunchy, corny, light and makes for a quick, fun, fuss-free snack. You don't have to bother about fork or spoon. You don't need to think about dips or dressings. Just toss them into your mouth -- chomp a little, smile a little.
I can't help but draw a similar parallel in David Dhawan movies. They are frothy, plain silly, comfortably illogical and unquestionably hilarious. I adore his indifference to reason. I love the way he thumbs down the existence of the brain. For him, it's as good as the appendix anyway.
| | |
| --- | --- |
| | More on rediff.com! |
| | |
In his new movie Maine Pyaar Kyun Kiya, Dhawan mirrors his thoughts through Salman Khan's character Sameer, who shrugs, 'Kyun, why, kaiko ka koi jawab nahi hota [All questions need not have an answer]'.

So back he is, with another mad caper, which thoroughly tends to the laugh muscles.

Characteristically, a Dhawan movie involves that either the hero cooks lies or is in disguise or he cons. In Maine Pyaar Kyun Kiya, everyone gets to contribute -- hero lies, heroine pretends and side hero cons.

Here, our orthopaedic lover boy lies to save his bones from single wild females. He is to girls what a Kawasaki Vulcan 2000 is to guys. Dr Sameer Malhotra (Salman), however, prefers to boogie against the stunning backdrop of Maldives and Dubai in the gorgeous company of Sonia (Katrina Kaif).

Sonia is a model and practices suicide for kicks. When not being rescued by the haddiyon ka doctor (that's what he calls himself) or her over-friendly neighbour Pyaare (Sohail Khan), you might bump into her at dress designer Vikram Phadnis' store. And if it's your lucky day, she'll present you with a designer top, hanger included. Ask Naina (Sushmita Sen). She got lucky!

Who's Naina? Meet Naina aka Fantastic Four. She works as the doctor's nurse, receptionist, organiser and make-believe wife.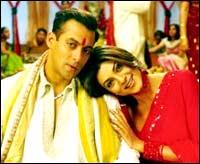 Sonia? Naina? Who does Sameer really fancy? Okay, you can scratch your head all you want. But frankly, that's something you cannot truly figure out till the end of the film. Basically, he suffers from the Jerry Maguire syndrome -- commitment. Every time a girl bats her eyelids, he pleads 'taken'.
Sonia, albeit, is a genuine contender. This time the doctor paints the town red, singing 'You're the one for me'.  But the 'one' is hyper inquisitive. First, she wants to meet the non-existent wife. Enter Naina.
Then she wants to meet Naina's non-existent beau. Enter Vickey (Arshad Warsi). Then she wants to meet Sameer and Naina's non-existent children. Enter two oversmart kids.
Then she wants to meet the mother. Enter an upgraded and explosive version of Mother India – a deadly mix of Lalilta Pawar meets Cruella De Vil (Beena Kak makes a refreshing and rollicking debut). She is the kind of mother who inspires Danny DeVito to make a film like Throw Momma from the Train.
There are enough lies, goof-ups, slapstick, chaos, courtroom mockery, nightclub madness, rain seduction, saas-bahu soap drama and a Friends-final-episode-inspired-climax to keep the reel rolling. Right? Wrong! Dhawan doesn't stop at this. He adds a sidesplitting sub plot involving Rajpal Yadav as a handicapped army fella.
Dhawan loves to do a Tom and Jerry with his heroes. He did it successfully in Deewana Mastana and Mujhse Shaadi Karogi. He does it again with the brothers -- Salman and Sohail Khan -- in MPKK. The you-bully-me-I-bully-you situation over Katrina reaches uproarious peaks in the boat and swimming pool scenes.
Comedy is all about spontaneous humour. The actors, as a team, share a comfortable can-I-pull-your-leg chemistry. This ease shows in their performances. Salman's good-humoured disposition is charming. He, along with younger bro Sohail, is obviously having fun. Proof: The behind-the-scenes warm camaraderie is for all to see in the closing credits.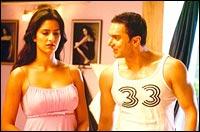 So far, so serious, Sohail does have a funny bone in his bulky body after all. Known for his tough guy image, the guy cracks you up with his antics as the wicked Pyaare. Reminiscent of Mujhse Shaadi Karogi's Sunny, Pyaare has a theme number too -- Naughty, Naughty Pyaare, Jo Sabki Maare.
Sushmita Sen as Naina looks hot, talks sense and acts super. Her intelligence doesn't interfere with the absurdity of her surroundings. It only makes it more convincing.
Katrina's Disney princess-like charm adds to her adorable screen presence. Cuteness is her prime contribution to MPKK.
You can always rely on Arshad Warsi to tickle you. He is aided in doing so by Rumi Jaffrey's crazy screenplay and Sanjay Chhel's nutty repartee.
Post-Mujhse Shaadi Karogi, David Dhawan's films wear a rather swell appearance. In terms of its body and colour, Maine Pyaar Kyun Kiya is a sunshine romantic comedy. It has it all -- cool, summery colours, trendy hip-shaking music, rocking choreography, pretty looking actors and amusing banter.
The gods must be happy. The month of July is as promising as it gets. The last two Fridays saw Sarkar and Dus taking charge at the box office. Maine Pyaar Kyun Kiya may well complete the hat-trick.