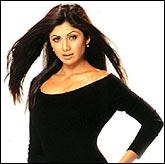 I did not mind Deepak Tijori's directorial debut Oops! because it told a unique story. Films about male strippers are rarely made in Bollywood.
I hoped Fareb would also be unique. Unfortunately, it turned out to be just another Bollywood flick. 
The movie starts with the murder of one Mr Singhania. All the evidence points to his wife Ria Singhania (Shamita Shetty). But the law frees her.
Soon, she falls in love with Aditya Malhotra (Manoj Bajpai), who is already married to Neha (Shilpa Shetty). But Ria is very stubborn, and has to get what she wants.
Who's hotter: Shilpa or Shamita?
Aditya realises romancing Ria means betraying his wife and child. He tells Ria as much. On the same day, Ria gets murdered. And the evidence points to Aditya.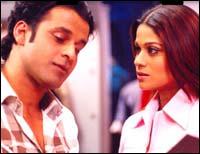 Who is the murderer? That is pretty much what Fareb is about.
From the initial scenes, it looks like Fareb is a whodunit. But later, the story shifts to the romance between Manoj Bajpai and the Shetty sisters, in turns.
An actor of Bajpai's caliber can do so much more. But his performance is weak, as compared to his heroines. Especially in the scenes where he gets angry and starts screaming. Besides, his stammering is very Shah Rukh Khan. We didn't expect this from you Mr Bajpai! 
The Shetty sisters have performed well, especially Shilpa, who underplays her character. 
Tijori got actors like Bajpai and beautiful women like Shilpa and Shamita, and yet, he could not produce good results. He cannot seem to make up his mind whether he wants a suspense thriller or a romantic film. The screenplay drags.
Baras Ja is quite peppy, but the rest of the music is average. 
Fareb, like Tijori's earlier film Khamosh, is worth a miss.