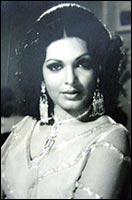 T
he very glamorous
Parveen Babi
was a youth icon in the late 1970s. Her sex symbol image was a subject of much discussion in those times.
One of her associates from her career as a movie star was Bharat Godambe, her makeup man who was behind the sexy look Parveen Babi sported in many of her hits.
Godambe, who is now a big name in the makeup business, pays a tribute to the actress, who was
found dead
at her Juhu home on January 22:
| | |
| --- | --- |
| | More on rediff.com! |
| | |
She was very conscious about her figure, and was always dieting. She would not eat anything before shooting, if she was required to expose herself. During the shooting of Manoj Kumar's
Kranti
, she even fainted because of her dieting.
Even when she was dieting, she would make sure food was cooked at her home for us. She was very kind.
Sometimes, she would have only vada-pav with us during the entire day of shooting.
She was very beautiful and had a very innocent look. She would bathe twice a day, always.
In those days, good makeup items were not available in Mumbai, so she would take me to London for shopping. She would buy a huge stock of makeup items and dress materials from there.
During the shooting of the song Raat baaki, baat baki (Namak Halal), she wanted a vampish look. But I did not agree with her. We tried three different looks but they did not work out. I thought she had an innocent look and a vampish look would not match her personality. We had a heated argument and finally, she agreed with me.
Her dress, look and the song became very popular.
She would always arrive on the sets before time. Her jodi with Amitabh Bachchan was a big hit. Since Amitabh was also very punctual, she would try to reach the sets before him!
She would always come for makeup rehearsals a day before the shoot.
After her relationship with Kabir Bedi ended, she returned to India. She called up her secretary in Mumbai and informed him of her desire to continue working in films. Within a few days, she got many films, some of which went on to become big hits like Ramesh Sippy's Shaan.
She trusted me a lot. She would always hand me over the key to her bank locker. Her mother also knew me well. I was like a part of her family. Her mother would visit her often, and would discuss everything with me.
Later, she told me about her mother's death. Her father died when she was very young. She was the only child. She did not have any relatives in Mumbai, and would celebrate festivals with me.
She helped many people in the film industry but they have forgotten her. I did not, because I owe her my success.
She gave me Rs 10,000 for my sister's marriage in 1980. This amount was big in those days.
Sometimes, she would become very rude and would scold people without reason. I quit her job in 1983.
In 2003, she called me home, and we had a long discussion. She admired my work and success.
As told to Vijay Singh