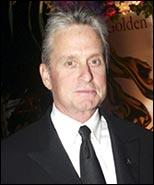 Michael Douglas is concerned that he doesn't grow too fond of Indian desserts. Otherwise, he laughingly asserts, he might soon have to resort to becoming a 'character actor'. The 61-year-old actor is in Mumbai as part of an 'India scouting expedition', as an upcoming project of his will be shot entirely in India.
Racing The Monsoon will be directed by Steven Carr (Daddy Daycare, Doctor Doolittle 2), and will feature the film's producer, Douglas, in a twin role. The veteran also declared that Aishwarya Rai is under discussion for the film's female lead.
"It isn't finalised yet, but I'm a big fan, and it'd be wonderful if it works out," Douglas said, while unable to pronounce the Bollywood star's name, using a more convenient 'Ashra' instead. He admitted to not having seen many Bollywood films, but has watched Rai's Bride & Prejudice.
Speaking about the film, Douglas says it'll be a family-action film, something audiences should enjoy, other than the 'items', he laughs, enjoying the Bollywood jargon he's picked up.
The film is set to follow in Douglas' 'Jack Colton' character, and is loosely similar (while not infringing copyright) to the super-successful Romancing The Stone plotline. When asked about his character in the new film, Douglas grins and admits: "It involves diamonds."
He hasn't explored India yet, having promised wife Catherine Zeta-Jones that she'll come along next time, and they'll be more exhaustive in their travels then. He smilingly calls it a very large country, and comments that "the traffic is a little difficult."
Production on Racing The Monsoon is currently scheduled to begin in India in early 2006.
Photograph: Getty Images