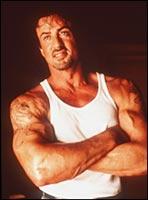 There's nothing more violent than a Veteran spurned. This was the underlying philosophy of Sylvester Stallone's blockbuster Rambo trilogy, and the three films made over six years propelled the (even) then-aging Stallone to renewed superstardom. The red head-band, bulging biceps and bazookas became pin-ups across the world as the testosterone struck the box office with great force.
Now, IMDb.com reports that the war might not be over quite yet. Stallone, currently 58 years old, has admitted to being in negotiations to revive the classic 80s franchise, which began with the 1982 film, First Blood. The actor obviously believes the bloody series still has enough guts (pun intended) to forge on. He says: "We're in the kitchen and we're cooking. I've had meetings about this and it looks good. We'll see what we come up with."
Well, if Clint Eastwood can make a boxing movie and win awards....
Photograph: Getty Images