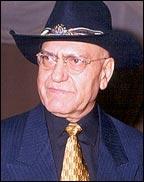 For moviegoers, Amrish Puri was undoubtedly the most feared actor of the last two decades. He was also one of the most respected.

Puri's bulky build, belligerent manner and the incinerating impact of his bulbous, laser eyes cowed down two generations of even the least rabbity heroes. Actors like Akshay Kumar have spoken about carefully studying his booming dialogue delivery. But as the outpouring of accolades at the actor's recent demise testify, Puri had transcended the mere 'villain' tag.

Puri had mastered the difficult art of maintaining a fine balance – he could be the epitome of dead-soul amorality (think Mr India's Mogambo or Damini's Chaddha) and he could also be the sphinx-faced guardian of morality and tradition as in a Dilwale Dulhaniya Le Jayenge or Virasat. Occasionally, the man who left his opponents in stitches could also leave audiences in stitches of another kind when he attempted comedy as in Chachi 420. But in most of the variegated roles that he played, Puri was convincing because he deftly utilised his theatre and art film roots to make apparent the motivational subtexts simmering below his character's surface.

From Shyam Benegal (Bhumika, Nishant, Zubeida) to Subhash Ghai (Meri Jung, Pardes, Taal); from Yash Chopra (Mashal, Dilwale Dulhaniya Le Jayenge) to Steven Spielberg (Indiana Jones And the Temple Of Doom), legions of renowned filmmakers have capitalised on Amrish Puri's ability to intimidate. For the last 25 years, the actor has starred in a string of landmark films, been part of hits with clockwork regularity and had three Filmfare Awards for Best Supporting Actor (Meri Jung, Ghatak and Virasat) tucked under his burly arm.


| | |
| --- | --- |
| | More on rediff.com! |
| | |
What makes Puri's success particularly noteworthy is that in a notoriously youth-worshipping industry like Bollywood, Amrish became a true blue star at the age of 50!

Seventeen years younger than his elder brother, character actor Madan Puri, Amrish too veered towards films in the 1950s but was summarily rejected for hero roles. Puri refused to accept minor roles and kept the home fires burning by doing theatre and voiceovers for advertisements. He was almost 40 when, in 1971, he landed a role in Reshma Aur Shera. But most of it ended up on the editing floor. He had to wait another half-a-decade but he finally made a mark with two Benegal films – Nishant, in which he played a landowner who abuses his power, and Bhumika, in which he played with astonishing authority Smita Patil's autocratic older lover who keeps her cloistered in his house.

Amrish's breakthrough in commercial cinema came when he played a character analogous to Duryodhan in the Mahabharata in Boney Kapoor's Hum Paanch (1981). In this sleeper hit, he was pitted against five 'Pandavas' who included Mithun and Raj Babbar. Amrish's sinister performance had a sledgehammer impact. Pran and Amjad Khan were veering towards positive roles at this stage and Hindi cinema gladly embraced the chicanery that the gimlet-eyed Amrish could portray onscreen. What helped was the fact that, even at 50, he had a robust physique that could look believable even when pulverising the hero.

Though Puri tried to balance art films (he gave a memorable performance as Om Puri's brutal father in Nihalani's Ardh Satya) and theatre (he performed in Andhaa Yug), for most of the 1980s and the early 1990s, Amrish played the blackguard in countless mainstream Hindi films. Whether he let his balding pate shine or donned a wig, he could strike terror in the heads and hearts of his opponents. He notched up major hits like Hero, Nagina, Tridev and Ram Lakhan.

Puri hit his villainous peak with Mr India (1987). He played an outlandish character called Mogambo who donned a blonde wig, beringed fingers and heavily embroidered jackets, sat on an ornate throne in a den and dreamt of world domination. It was all way over the top but extremely entertaining and Puri became an instant cult-figure when his bombastic line 'Mogambo khush hua' became a catchphrase with children all over the country.


Amrish Puri classics

 Year

 Film

 Director

 1977

 Bhumika

 Shyam Benegal

 1981

 Hum Paanch

 Babu

 1985

 Meri Jung

 Subhash Ghai

 1986

 Nagina

 Harmesh Malhotra

 1987

 Mr India

 Shekhar Kapur

1989
 Tridev
 Rajiv Rai
1989
 Ram Lakhan
 Subhash Ghai
1991
 Phool Aur Kaante
 Kuku Kohli
1995
 Karan Arjun
 Rakesh Roshan
1995
 Dilwale Dulhaniya Le  Jayenge
 Aditya Chopra
1996
 Ghatak
 Rajkumar Santoshi
1997
 Virasat
 Priyadarshan
1997
 Pardes
 Subhash Ghai
1999
 Taal
 Subhash Ghai
2001
 Gadar
 Anil Sharma
2004
 Hulchul
 Priyadarshan
Amrish Puri has maintained that he never went looking for a switch of image; he left that to the filmmakers and the audiences. Soon, filmmakers started relying on Puri to portray layered patriarchal characters. Bapu, the director who had given Puri his breakthrough role in Hum Paanch cast him in the Anil Kapoor starrer Mohabbat (1985) as heroine Vijayeta's stern but essentially loving father who adamantly sticks to what he perceives as right.

Rajkumar Santoshi, who had cast Puri in Damini as a greasy defence lawyer who victimises a rape victim in court, next cast him totally against type in Ghatak (1996) as hero Sunny Deol's terminally ill father -- a principled freedom fighter bewildered by his confrontation with a changing world order. Puri's crumbling but still-intact dignity in the face of humiliation by the villain stands testimony to the actor's superior histrionic prowess. Justly, Puri won the Best Supporting Actor Award for the film.

As Chaudhary Baldev Singh in the blockbuster Dilwale Dulhaniya Le Jayenge, Puri left his indelible stamp on a character, which has gone onto become a genre. He played an unyielding NRI father with a soft centre -- he worries his children are being alienated from the values of his beloved homeland and becomes severe. Puri based some of his character's inflections on his own strict and principled father Nihal Chand Puri. His character's fondness for K L Saigal's songs however reflected Puri's own personality.

Incidentally, Puri may have played the spoke in the wheel in countless love affairs on screen but this robust Punjabi married his Karwari wife for love. Puri had two children, Rajeev and Namrata, and was a doting grandfather.

Even after he crossed retirement age, Puri's versatility was remarkable -- he could play the lecherous reprobate in Karan Arjun and Koyla and simultaneously be stunningly effective as the patriarch in Virasat. He would play the father in Benegal's Zubeida and a grandfather in Shararat, directed by a newcomer.

Though unwell for some time now, Puri could not stay away from his beloved studios. In 2004, he did a variety of roles -- as the father who is at the receiving end of his daughter's boyfriend's misadventures in Mujhse Shaadi Karoge, as the industrialist cheated by his trophy wife in Aitraaz and as the misogynist head of an all-male family in Hulchul.

Puri will be remembered as an artiste who kept his creative muse well nourished.