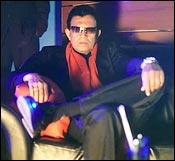 With a shoddy script, corny dialogues, mediocre music and a clichéd plot, there's not much hope for Vikram Bhatt's Elaan at the box office. But the film does have one or two surprises.


Mithun Chakraborty makes a comeback, playing Baba Sikander, the villain of the piece, a gangster who peddles in drugs, murder, kidnapping and extortion. He lives in Europe and is on the most wanted list of the Indian police.

He attempts to extort money from Kantilal Shah, a rich businessman based in India. At the behest of his adopted son Karan (Rahul Khanna), Shah refuses to yield to his demands.

Baba unleashes his wrath and pumps bullets into the unsuspecting Kantilal.


| | |
| --- | --- |
| | More on rediff.com ! |
| | |
Karan, overcome by remorse, has a new 'elaan' -- to put an end to Baba's reign of terror by capturing the untouchable Baba Sikander and extraditing him to India, alive.

But he can't accomplish the mission alone. So, he teams up with Arjun (Arjun Rampal), an ex-cop, and Arjun ropes in Abhimanyu (John Abraham), an ex-crony of Baba who now languishes in jail. Predictably, he now has a score to settle.

Karan crosses paths with Priya (Amisha Patel), a reporter on the prowl for more grist for the mill. She plots and schemes to get Karan to tell his story, but ends up falling in love with him. She joins the squad along with Sonia (Lara Dutta), Abhimanyu's dancer girlfriend.

Together, this quintet set out to capture the untouchable Baba. The rest is predictable.

Mithun falls flat in the Don role.
Rahul Khanna makes the crossover to mainstream cinema, but isn't convincing in the role of the avenger who decides to take the law into his own hands. John Abraham is a smashing success in his role as a brash, unrefined goon and speaks 'Bombaiya' Hindi with ease. He has great screen presence, swaggers with style and delivers his lines with conviction and flair.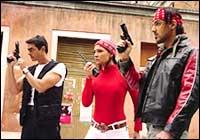 Arjun Rampal is almost believable as the rugged ex-cop. He has a deep baritone and svelte body language. With a superior script and a better direction, who knows?

Amisha hitches up her hemlines and plays the bold reporter with élan, but Lara is way too sophisticated to be believable in the role of an exotic dancer.

Watch out for the jailbreak sequence. It's worth a few laughs and makes the cops look like a bunch of buffoons.

If you're a die-hard John Abraham fan, then go ahead and watch the film because he looks like a million bucks and delivers a good performance. But there's not much else to hold your interest for three whole hours.