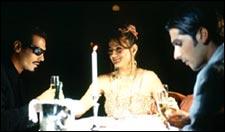 Vaada has a different storyline from most murder mysteries I have seen. But too many twists tend to spoil the plot, and this is exactly the case with this Vashu Bhagnani production.
Vaada is the story of Rahul (Arjun Rampal), Karan (Zayed Khan) and Puja (Amisha Patel). Rahul and Puja are happily married, but Rahul loses his eyesight in an accident.
That's when Karan enters their life. Karan is Puja's ex-boyfriend, 'ex' by virtue of his obsessively possessive nature.
Predictably, even after knowing Puja's married, Karan wants her back. But she isn't willing to leave Rahul. As the mess gets trickier, Puja commits suicide. But her body disappears from the mortuary before the post-mortem, proving -- by infallible Bollywood logic -- that she was murdered!
So who is the killer?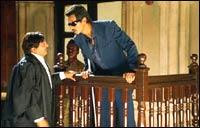 The film has several basic flaws: instead of the police handling the case, Zayed is seen investigating the crime! Besides, a murder mystery requires the police to be aggressive and capable, not just buffoons.
The film has two flashbacks, and the actual story starts post-interval. Certain scenes drag. But, yes, the climax surprises you.
The stunts are good and the music is average. But even if you enjoy a song, you would forget it when you walk out of the theatre.
| | |
| --- | --- |
| | More on rediff.com! |
| | |
Arjun Rampal has done a good job; his is a subdued performance, and the model-turned-actor looks great in most scenes.

Zayed Khan, after proving himself in Main Hoon Na, goes a step further. But he tends to overdo it in certain scenes. And there is a visible Shah Rukh Khan-from-Darr hangover when he acts like an obsessive lover.

The weak link is Amisha Patel who seems to have lost it, not to mention that she looks ghastly in some scenes because of her blonde hair.

With too many 'betrayal-murder' films coming out, it's hard to predict which one will work. But Vaada ends up being, if not anything else, a pretty unpredictable film!