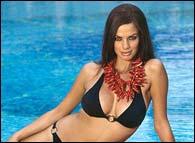 I
t starts off as a murder mystery, but suddenly morphs into a love story of a police officer in love with a dead girl!
It is not South African resident Ilene Hamann -- the first recorded instance of an Afrikaner acting in a Bollywood film -- who sets the screen on fire in Pooja Bhatt's production, Rog, but it is our very own Irrfan Khan who delivers yet another masterpiece.
Irrfan may not have appeared on the huge posters of Rog adorning the streets of cities like Mumbai, but he is certainly in every frame of the film. And thank God for that, given the story line and the below par performance of the other characters!
If you have seen his brilliant performance in Haasil and Maqbool, you will know what to expect from this highly versatile actor in Rog – and he does not disappoint.
Ilene gives a good performance, considering that she is acting in a foreign country, in a language, which she doesn't speak, and with no previous acting experience. And even though she has not dubbed for Rog, it is not obvious. Or maybe I did not notice it, given the outfits she wore in the movie.
| | |
| --- | --- |
| | More on rediff.com! |
| | |
It seemed that besides Irrfan, even writer Mahesh Bhatt fell in love with the South African model. Maybe that is why he turned a simple murder mystery into a complex, dragging love story.
Shah Rukh Khan performed brilliantly in Swades, even though the movie got mixed reviews. In the same way, Irrfan has stolen the show in yet another disappointing movie by Pooja Bhatt.
The film begins with Maya Solomon's (Hamann) murder. Inspector Uday Rathore (Irrfan) is handed the case. Harsh (advertising personality Suhel Seth making his movie debut) – Maya's friend -- and Ali (Himanshu Malik of Khwahish) – Maya's fiancé -- are the prime suspects.
Uday falls for Maya, after seeing her photographs and listening to some stories from her past. He tends to spend most of his time in her house (where she was murdered) reading her diaries, love letters and staring at his pictures for hours. At night, he makes it a point to drink at her place and sleep on her cushions. Until, one night, Maya re-appears!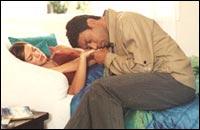 This is when the film loses its pace, and slows down. The relationship between Uday and Maya is highlighted, while the investigation takes a backseat.
As the two-hour mark nears, debutant director Himanshu Brahmbhatt realises that the movie should end, and loses track.
Himanshu disappoints. It is like watching a talking robot, who delivers every line fed into his system without any expressions! And the lesser said about Suhel, the better.
I would recommend the film if you have time to spare and if the other releases this Friday are running house full. And you are bound to be impressed by Irrfan Khan.