The documentary celebrating the resilient spirit of children of prostitutes in Kolkata, Born Into Brothels continues to win awards -- including the Oscar -- and acclaim worldwide, but don't ever count on seeing it in India.
"Right at the start when I thought of making this film, I had promised the women (the prostitutes in Sonagachi, Kolkata) that I will protect their identity," says co-director Zana Briski from her New York office.
The bittersweet documentary focuses on Briski teaching a group of boys and girls to shoot and edit pictures from everyday life in the city and getting them to think of life beyond the brothels.
As it is, she says, prostitutes are abused by their clients, by the police and often by their mothers and husbands. "There is no way I am going to add to their burden."


| | |
| --- | --- |
| | More on rediff.com! |
| | |
Among the awards the 85-minute long film by Briski and Ross Kauffman was its selection by Los Angeles critics as the year's finest documentary. It won over Michael Moore's Fahrenheit 9/11.
Released by ThinkFilm and now showing in New York, it was also named the best documentary of the year by the National Board of Review. And it is on the long list of documentaries eligible for an Oscar nomination.
Many reviewers are surprised to learn this is the first documentary Kauffman and Briski have directed.  
    
'No documentary (at Sundance) touched me as deeply as Born Into Brothels,' wrote noted critic David Ansen in Newsweek. 'Beautifully edited and shot. A remarkable and moving story.'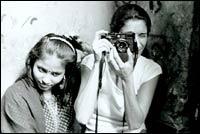 There is hardly a reviewer untouched by it. 'An emotionally exquisite, irresistibly moving and visually elegant movie,' John Anderson declared in Newsday.

And in the influential trade publication, Hollywood Reporter, James Greenberg called the film 'a work of art so deep and resonant that it puts most narrative films to shame.'

"Ross (Kauffman) and I were certain right from the start we wanted to make a joyous film that celebrated the courage of young boys and girls," says Briski, 38, who has a Master's degree in theology and religious studies from Cambridge University. "But we have always been realistic. We also tell stories of children who couldn't join a good school because their parents or guardians just would not let them."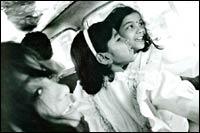 Briski, an award-winning photojournalist got interested in the children following an unplanned visit to the Kolkata brothels at the insistence of a friend over eight years ago. She gave up photography to teach the children, and fight for their rights.  
Her promise to the mothers of the children means the film will not be shown at any Indian film festival or on any Indian television station, and its video will not be sold in India.

"We may show the film to a few individuals or organisations in India to promote our work, especially the foundation, Kids with Camera," she says. But even that decision has to be made carefully.

The exhibition of the children's photos has been held in Kolkata, apart from New York. "But we have been very careful not to expose their mothers," Briski adds.

"It wasn't easy to win the confidence of the women," she continues. "And to get the permission to use the camera was even more difficult. Everyone is worried about the camera --- the women, the clients, the pimps."
For nearly a year Born Into Brothels has been grabbing the attention of critics and audiences at more than two dozen film festivals in North America, Australia and Europe. It has been shown at film festivals in such cities as Atlanta, Nashville, Cleveland and Newport Beach.

It was named best documentary at the Chicago and Seattle international film festivals, winning the Gold Hugo at the former. Among its more prominent awards is the Nestor Almendros Prize for Courage in Filmmaking given at the Human Rights Watch film festival.  

It will slowly add cities and theatres across North America. It is scheduled to open in Los Angeles in late January.

A handful of pictures by the children are displayed at Film Forum, and they will be displayed wherever the film will go. Briski has also set up a foundation to help the Kolkata children in the long run (www.kids-with-cameras.org). Her immediate goal is to raise money for a small school for the brothel kids.
"We want to build it from scratch," she says. And following its model, she wants to build similar schools in other countries.
"We have raised about $100,000 from various exhibitions selling the pictures," Briski says. "We give away everything to the fund we have established for the children after deducting the bare expenses."  

The film, released by THINKFilm in association with HBO/Cinemax Documentary Films, will get a big boost if it makes into the five-nominee Oscar short list. It could play in hundreds of cities and towns across America and Canada, also reaching universities and schools.

"Good word of mouth is important for a film like this," says Briski, adding there is very little money to publicise the movie.