The story of Sins is set in a nondescript coastal Kerala town. Father William is a local parish priest in his mid-30s, and a very good looking one at that.

One day, his Ambassador collides into a bicycle and he literally bumps into Rosemary, a coy, naïve young girl, in a tearing hurry to reach her examination venue. Father William offers to give her a lift and Rosemary agrees.

Taken in by his chivalry, good looks and dashing persona, a few weeks later, she visits him with gifts as a token of her appreciation.
| | |
| --- | --- |
| | More on rediff.com! |
| | |
She asks father for his blessing. He grants it and plants a kiss on her forehead.
A sexual tension builds up between the two, a tension that receives vent, shortly a few weeks later, when in a moment of weakness, the two consummate their lust. The two become lovers, and the film tracks the path of their liaison.

Which brings to mind the wonderful miniseries, The Thorn Birds, also the story of a Catholic priest's love for a woman. He experiences pangs of guilt and an internal conflict that tortures a man of his position who is sworn to celibacy.

In Sins, the conflict experienced by the priest emerges in merely fits and starts, for a brief period in the beginning, leaving many questions unanswered.

Was the man of God actually a disciple of Satan all along? Mere lust cannot drive one to commit such dastardly acts as committed by him in the latter half of the film.

What is the church's role in this episode?

Why is Rosemary's God-fearing Catholic family a silent spectator to her liaison with the priest?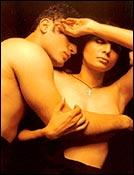 The film's sexually explicit scenes will make prudes squirm in their seats, no doubt. They are bold and blatant, as Rosemary exposes a breast or two.

The flow of the film is stilted, and it has many awkward scenes, due to theatrical dialogue deliveries, and unbelievable situations which challenge credibility. Seema Rahmani's (Rosemary) accent amusingly alternates between the vernacular to convent-educated to American-style. But certain scenes send a chill through your spine, because Shiny Ahuja is convincingly sinister in the role of a demented lover.

Though director Vinod Pande makes a sincere and bold attempt to portray 'forbidden love' and all the trimmings and trappings that accompany it, the film does not really explore this angle in totality.
Sins is not really the story of 'forbidden love', but the journey of a sane man's metamorphosis into a psychopath. Unfortunately, how and when this transformation exactly happens is not explained, an angle which could have really given depth to Sins.