Is it a big deal for a hero and heroine to kiss on screen? Well, if you are the Pakistani goverment, it certainly is!
In fact, an outraged Pakistani government has fined popular Pakistani actress Meera for kissing Ashmit Patel in her Bollywood debut, Nazar. The film is directed by Mahesh Bhatt's wife, Soni Razdan.
"A certain lobby in Pakistan is purposely tarnishing my name because I am doing a Bollywood film in India," Meera tells News Editor (Entertainment) Syed Firdaus Ashraf.
"I have come here as a peace ambassador and there is a particular lobby in Pakistan that cannot digest this fact."
Excerpts from the interview:
What is the fine the Pakistani government has imposed on you for doing the kissing scene in Nazar?
At the moment, I have no idea.
I have got a letter from the Pakistani government but it's currently at the Pakistani embassy in New Delhi. I don't know the details of the letter.
Right now, I am in shooting in Panchgani (a hill station near Mumbai).
I am very disturbed by this news. Whatever happened is very bad.
We are doing this film to promote Indo-Pak ties. People have neither seen the promos, nor the film, and they have started gossiping about the kissing scene. These are the people who are against Indo-Pak friendship, and they are targeting this film through me.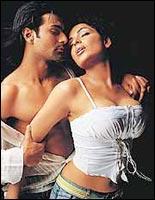 Do you think this outcry against you is to malign you?
I think some people in Pakistan are trying to destroy my image. But I don't know who they are. They are trying to make sure our film industries do not come together.
I will talk to the Pakistani high commissioner and the information ministry of Pakistan and clear my stand. 
What is Nazar about?
Nazar is the first joint-production between India and Pakistan.
I am a Pakistani passport holder, and the first Pakistani heroine to come to India and shoot for a [Indian] film.
Those who are opposing me are saying Ashmit Patel is Hindu and I am Muslim. They have stooped to such a low level, and are sounding so stupid.
Mahesh Bhatt is a sensible filmmaker and he is one of the biggest intellectuals of South Asia. I am sure people know he will not get into anything like this.
As far as the film is concerned, it is a mystery. It is a positive subject and a film that will promote friendship between the two countries. There is no controversy in it.
We just performed at a Sanjay Dutt show. In the same way, some Indian artists are going to Pakistan to perform. But a section of people don't like it.
| | |
| --- | --- |
| | More on rediff.com! |
| | |
What is the general opinion of the people in Pakistan about this issue? Are they positive about a Pakistani actresses working in India?
Very positive! In Pakistan, people tell me, 'Meeraji, go to India and work!'
Kissing scenes are becoming common in our film industry. Don't Pakistani heroes and heroines kiss on the big screen?
I don't want to talk about this. I don't want to get into a controversy. I am a positive girl, and don't want to talk negatively.
If it becomes a serious matter, I will open my mouth. Now, I want to avoid controversies. I want to keep the friendship between the two countries intact.
My question is that we see kissing scenes in the Indian film industry...
(Interrupts) Yes, it is normal in your industry. I have seen Madhuri Dixit, Sridevi and Aishwarya Rai doing kissing scenes.
It is very backward to object to that. Our culture is the same; we are the same people! We feel the same way -- what people in India consider obscene, people in Pakistan consider the same thing obscene! 
I don't understand -- even if I have kissed, what wrong have I done? It does not matter. It is just a normal shot in the film!
Have you ever kissed in a Pakistani film?
No, never.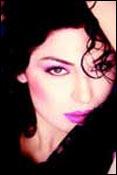 The censor board in Pakistan will not allow it. It is a Muslim country.
If you compare that with Bollywood films, you see kissing all the time. Shah Rukh Khan is kissing his heroines on their neck and cheeks. It is very casual and normal here.
Inshallah, I will have a press conference later and clarify my stance when I come to Mumbai.
Are Pakistani actresses allowed to wear revealing clothes or is that censored as well?
No, it is not that restricted.
If they say they've fined me, then I can show many Pakistani films to the government that were not censored! I can directly point those films to the government and ask them where the censor board was then!
It is just because I am doing a role in India that they are objecting.
I am playing a role of peace of ambassador in India. They are trying to destroy my role because I am the first Pakistani actress to work in India.
But this gossip is making my life miserable. If I start asking questions, no one will have the answers.
When Pakistani actresses Salma Agha and Zeba Bakhtiar came here, no objections were raised against them. So why are they targeting you?
They are British passport holders. I am the first Pakistani actress with a Pakistani passport. After 56 years, I am the first Pakistani actress to act in India.
My family is very upset. I am not able to give a shot, as I am mentally tortured.
I am getting calls from Pakistan and I will make a file of this and meet Musharraf sahab (Pakistani President General Pervez Musharraf) and discuss it with him.
I don't understand -- why am I being tortured? What wrong have I done?
How was the experience of coming to Bollywood?
Great! India is a great place to work in, and people here are very good.
How do you compare it with your film industry?
People here are very bold and open-minded. We are not bold in our films. The censors here are not that strict, compared to our censors.