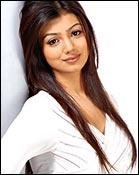 D
irector
Imtiaz Ali
's
Socha Na Tha,
which releases Friday, is a double debut. It is the director's first film and the hero Abhay Deol's debut big screen venture.
Abhay, who is paired with Ayesha Takia in the film, is action star Sunny Deol's cousin.
Ali had his initiation in showbiz with theatre, and then directed television serials like Purushetra, Imtihan and Star Bestsellers.
But in conversation with Patcy N, the 33-year-old director says he was always meant for the big screen.
| | |
| --- | --- |
| | More on rediff.com! |
| | |
How did you get the story idea?
I once met a girl in a cafeteria, and we got talking. She was sad because a boy was coming to 'see' her. She told me it is ridiculous that girls are expected to marry in this way in this century. She didn't want to go home.
I asked her to speak to the boy when they had a chance to be alone. After that day, I don't know what happened to her.
The thought kept running through my mind, and that is what happens in Socha Na Tha.
I wrote the script in two nights -- shooting in the day and writing in the night!
Why did you cast Abhay Deol and not an established actor?
I thought the boy who plays Viren in my film should be a newcomer. Yes, established actors bring value from the distributor's point of view, but the final saleability of a film comes from how good it is.
Sometimes, the honesty of casting a new boy helps. There have been so many 'newcomer' films like Qayamat Se Qayamat Tak and Maine Pyaar Kiya. If Maine Pyaar Kiya was made with Shatrughan Sinha, it wouldn't probably be so good.
My producers were insisting on a star, but I insisted on a newcomer. I met Abhay through a friend and auditioned him. I didn't know he was a Deol then. It was only after I selected him that I learned he was a Deol.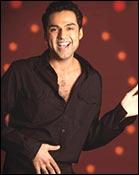 How did Sunny Deol come into the picture?
Sunny said that he wanted to produce Abhay's first film, and wanted to launch his cousin. He called me to Shimla and asked me for a story narration. The meeting lasted five hours.
What were you doing before you arrived in Mumbai?
I am from Jamshedpur. I started off with theatre in school for the Rotary Club. We would perform in professional plays directed by Barun Roy. I would act. I also wrote and directed some plays.
Then I joined a group called Act One in Delhi. I was the president of the Dramatic Society in Hindu College, where I studied. I did about two plays a year. After that, I came to Mumbai.
What did you do once you reached Mumbai?
The only way to get into films was through television. I went through the regular struggle period, which included sleeping in CST [Chhatrapati Shivaji Terminus, earlier called Victoria Terminus] station.
I took up an advertising and marketing course in XIC [St Xavier's Institution of Communication], so that I could get a job. But I didn't get one.
How did you get into television?
I got a job at Zee TV as a production assistant for three months. My job was to carry tapes from one studio to another. I started doing everybody else's work as well and became known as a post-production person. Gradually they saw that I was capable of more.
Within three months, they were considering a hefty raise. At the same time, I had got an offer from Crest Communication and I joined them. I started as the concept director and finally became the creative director.
What serials did you do?
I directed a serial called Purushetra, which was a talk show with [actress] Kirron Kher. I also directed Imtihan on Doordarshan and Star Plus.
Then I did Nayan for Sahara, X-Zone and Rishtey for Zee and Star Bestsellers for Star TV.
I directed serials for seven years. Television does not permit you to go beyond a level because of the budget. I started getting the feeling that I was not fit for the small screen. Now, I have found my place in films.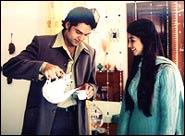 What is the difference between the big screen and the small screen?
The big screen requires more details. The audience is sitting in a dark theatre, watching your film, and they look at all the details.
On the other hand, a woman can be working in the kitchen while watching her television serial. So it's a different kind of communication.
How was your first day of shooting?
We started shooting in Sophia College, Mumbai. The entire Deol family was present on the first day -- including Dharamji, Sunny and Bobby. There was so much work to be done that I had no time to be nervous. Besides, hundreds of girls from the college were hovering around!
What was the best part of doing Socha Na Tha?
Directing Abhay and Ayesha!
Before the movie started, we had a workshop with them. By the end of it, we knew each other very well, and there were times during the shoot when I didn't even have to tell them what to do. They would just look at me and know. Both of them are very committed and passionate about their work.
Both are very unlike each other, but very talented. Interestingly, neither of them knew much about acting before.
Tell us more about Abhay.
Abhay is an extraordinary actor. He did not have the attitude of a 'star.' He didn't wear sunglasses or jackets. I have a lot of expectations from Abhay.
When Amitabh Bachchan arrived in the industry, he was not considered good looking but he had merit.
What are your expectations from the film?
The journey [of making the film] is more important than the end. The process of making Socha Na Tha is my reward. After that whatever happens is a bonus.
Did Sunny interfere in the film?
Sunny is a big man but he doesn't interfere in your work. He heard the story and that was it. I was always the captain of the ship.
I still ask him how he agreed to me directing the film because he was putting the future of his company and his cousin in my hands. It is still mystery to me.
Sunny is the most misunderstood man in the industry. He is very shy. The problem with him is that he is honest and generous, not manipulative like others.
If you want to interview him, he will refuse because he is shy. He is scared of interviews! I hope the film does well for Sunny's sake because he has put in a lot of effort and money into it.