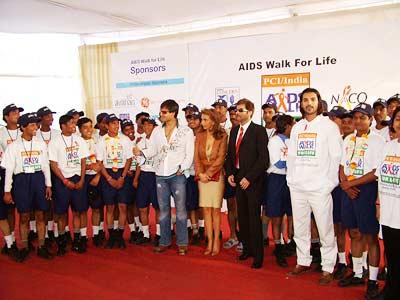 More than 30 people began Aids Walk on December 1, 2004, in a unique effort to raise awareness about AIDS and the HIV virus.
They plan to walk for 6,000 km!
The Walk kicked off in Delhi, and the dedicated foot soldiers for AIDS awareness have reached Mumbai.
Here are some of them posing with Bollywood stars, who encouraged the noble effort.
Pictured with the walkers are Vivek Oberoi, Parmeshwar Godrej, Anil Kapoor and John Abraham.
Photographs: Pradeep Bandekar