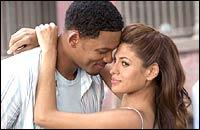 An intermittently entertaining romantic comedy for undemanding fans, Hitch may seem a bit too long even to those looking for escapist fun.
And yet, the movie could be a considerable success worldwide, thanks to Will Smith's immense popularity. But the real asset is Kevin James. Making his screen debut as a date-shy accountant, James has several hilarious scenes in the film. He executes them well, effortlessly under the skin of his character.
Released in North America to welcome Valentine's Day, the movie will certainly have plenty of appeal that would last for several weeks making it one of the more successful comedies in recent months.
The movie has arrived just as Meet The Fockers is fading and Are We There As Yet? has already made most of the money expected from it.
| | |
| --- | --- |
| | More on rediff.com! |
| | |
Fans who love sophisticated comedies could be reminded of their awkward and uneasy first dates while watching
Hitch.
Will Smith, who has shown his comedic side in such films as I, Robot and Bad Boys, plays Hitch, a glib 'date doctor' who coaches bumbling men a few things about dating and romance. Among his new clients is a terribly shy accountant, Albert (James) who wants to woo an alluring heiress, Allegra (Amber Valletta).
But as the coaching progresses, Hitch runs into problems as a young and attractive New York gossip columnist Sara (Eva Mendes), who is desperate for a scoop, starts digging into his strategy -- and non-existent love life.
But Hitch isn't as amoral as Sara thinks. For we get to know him a little better as the film progresses. For example, he has denied helping a sleazebag or two, despite their bulging wallets.
Sara certainly seems disinclined toward a romantic relationship. Predictably, you can guess what's going to develop between them. But what some viewers might not guess is that the development of a romance could be so dumb.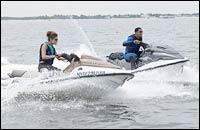 The screenplay isn't sure if it should give more importance to romance or comedy. But it is the comic scenes in the movie that the fans could remember as they leave the theatre. Among them is the sequence, by now widely shown in the trailer as well as on the television interviews with James, involving Hitch coaching James for a date. Despite its hilarity, one feels the sequence would have worked out better with sharper editing.
Smith is fairly likeable throughout, though in some situations he is clearly overtaken by James. Mendes looks charming, but her performance suffers because her part is not strongly etched.
When are we going to get a smart comedy with believable but fun dialogue, well-etched characters and energetic pacing?