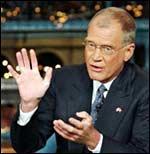 Aishwarya Rai will feature on one of America's most famous talk shows, David Letterman's Late Show next week.The interview, to be aired on February 9, comes two days ahead of the US premiere of Rai's film, Bride And Prejudice.
Airing on the CBS television network, the Emmy Award-winning programme marks the actress' first appearance on an American late night talk show.
The former Miss World was profiled on CBS Network's 60 Minutes programme, with an interview taped in Mumbai.

This time, Rai will be seated at the Ed Sullivan Theatre in Manhattan, to chat with Letterman about her first English-language movie.
Bride And Prejudice, directed by Bend It Like Beckham director Gurinder Chadha, puts a Bollywood spin on the classic Jane Austen period novel, Pride And Prejudice.
The film also stars Martin Henderson, Naveen Andrews, Namrata Shirodkar, Sonali Kulkarni and Anupam Kher.
Rai is all set to make a foray into Hollywood, having been signed on for international productions like Chaos, with Meryl Streep, and Racing The Monsoon, opposite the film's co-producer, Michael Douglas.