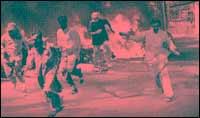 Anurag Kashyap's Black Friday was scheduled for release on January 28, but the release was held back by litigation.
The film is based on the March 12, 1993 Mumbai bomb blasts. An accused in the case has moved the Bombay high court, arguing that the film could convey an impression about guilt, months before the honourable judge in the cases pronounces his verdict.
Says producer Arindam Mitra, "We have an interim stay on the film as per the honourable high court. The interim stay is on till tomorrow (February 3), then we have a further hearing."
| | |
| --- | --- |
| | More on rediff.com! |
| | |
This is the second film directed by Anurag Kashyap which has attracted controversy. The talented director's first film, Paanch, starring Kay Kay and Tejaswini Kolhapure, was never released.

Mitra dismisses talk of a jinx. "Anurag is an extremely talented filmmaker and writer. I do not believe he is jinxed. I believe that, with Black Friday, we are trying to do something which is not done before, and that would attract opposition and difficulties. It was a project moved by Mid-Day Multimedia Limited. We should not be blaming Anurag for this."

"The movie is based on a book written by (Midday reporter S)Hussain Zaidi, which is available in the public domain for the last three years," says Mitra. "We have followed all the steps that a filmmaker and the producer need to follow in this country, and we had announced the movie well in advance. We have got whatever permissions we needed to shoot in this country from the different authorities. We have got a censor certificate."

"The accused who appealed has not seen the movie!" he exclaims.

"The movie is about the Mumbai bomb blasts case, and also about how violence is cyclical. Something happens and it sparks off something else," Mitra adds. "We have see this so many times in our country. The point of this film is to make people aware that violence is cyclical, and the cycle can reappear again and again. We hope that people will at least have an opinion. As Graham Greene said, 'Having an opinion is to act.' That is what the film is about."