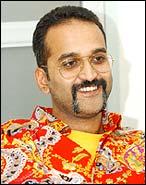 Rohan Sippy is all smiles. The director's second and latest movie, the Abhishek Bachchan starrer Bluffmaster is not doing badly at all. Especially in multimplexes.
And when Rohan chatted with rediff.com readers on Wednesday, the peppiness was evident, as the director took questions on everything from remaking Sholay to the 'casting couch'.
For those who missed the chat, here's the transcript:
Rohan Sippy : hi everyone, this is rohan
---
jal : bluff... fantastic movie. but i think abhishek was not suitable for the role. why did you take him??
Rohan Sippy : thanks- i chose abhishek because i think he could carry it off. plus he brought a youthfulness to a potentially morbid & difficult role too. and he's great in songs too!
---
| | |
| --- | --- |
| | More on rediff.com! |
| | |
smarajit : congrats on ur 2nd film! I liked Bluffmaster in parts... the con-acts were refreshingly new. And the twist in the tale was unbelievable. But other than that you made the story slip, we as viewers like to see something new all the time or even if it is old it must be rehashed well. Except the ending and the con-acts, rest of the sequences were pretty cliched. AB was good but not gr8, he lacks that comic timing of Saif, Arshad, Akki who r doing better at comedy these days(ruling out AB Sr. and SRK- they r beyond comparisons). Abhishek was better in the sensitive Kuch na Kaho which I liked more.
Rohan Sippy : thanks smarajit. I am always learning is smarter and hungrier than we give them credit for! As far as Abhishek goes, the role required a lot more than comic timing, and I think across the range of preformance required of him, he did a great job. But that is just my biased opinion!
---
jal : do you plan for next 'sholay-2' under your banner??
Rohan Sippy : no plans for sholay 2. there can only be one sholay in my opinion!
---
sunny : i think choosin small B was a really good job i think he has done a really good job he has really acted well but there r some places were if u would have worked on it would have made it better
Rohan Sippy : i know- when i look at a film i have made i feel the same way too!
---
ajay : when ur next prodution taxi 9211 releasing ??? will the filim promote the way u promoted bluffmaster???
Rohan Sippy : we are planning to release the film in February. I hope we can promote it even better than bluffmaster!
---
nandini : i think u r really high on style...whether it is ur films ( i didn't like KNK 2 much but teh songs were kickass)or ur own appeearance...that moustache rocks
Rohan Sippy : Hi Nandini,Thanks!
---
Abs : wat u think abt getting topless girl into ur movies?
Rohan Sippy : i think it would be great, since we already have a lot of topess guys there already!
---
nausheen : why did u chose priyanka in bluff master?
Rohan Sippy : Hi Nausheen,i think the better question is why did she choose me! I think she is talented, and she suited the part. What was also great about her is that she agreed to come onto the film even though it isn't a ful-fledged "heroine's" role. She understood she was part of an ensemble cast, and really was a great team player!
---
dv : rohan u always wanted to be in filmline or just becoz somebody has to carry ur fathers legacy
Rohan Sippy : It was always something that fascinated me, and I was lucky enough that I had access to it at home!
---
mudit_tayal : Dear rohan i m big fan of ur dad
Rohan Sippy : so am I!
---
Tila : I head that Bluffmaster was wonderful I am waiting to watch it on the real DVD when it releases as I live In France. I would like to Know what's gonna be your next release?
Rohan Sippy : Hi Tila,Glad you are hearing good things about the film! And I hope you enjoy it? Our next film release as producers is Taxi 9 2 11, starring Nana Patekar and John Abraham. It will be out in February. As a director, I have acquired the right to Chetan Bhagat's novel One Night At The Call Centre, which he is currently adapting. And there is a wild film concept that Shridhar Raghavan (who wrote Bluffmaster!) is developing which should be fleshed out in a few months.
---
indirahul : if I could repeat the question Mr. Rohan, would you like to do a political comedy
Rohan Sippy : not sure what kind of film that would be- satire is something very tricky to pull off if thats what you mean.
---
ajay 01 : i think bluffmaster is bit westernised movie.. if u could have avoided that ..it would have worked better in up , bihar & mp such places...what's ur opinion??
Rohan Sippy : maybe. But then again maybe it is working so well in the cities because of the way it has been made too! There are no ways to predict how a film will be received, so I went ahead and made the film that I wanted to.
---
manpreet : ROHAN! are you still there? I saw Bluffmaster this Sunday... It's superb, I hope it does awesome here in the UK... KNK was a sweet movie, but Bluffmaster ROCKED!! hey rohan... given the chance which actress wud u cast opposite abhishek in your next film... rani mukerji, kareena kapoor or preity zinta????
Rohan Sippy : Thanks so much manpreet, great to get positive feedback! I hope it does well there too, so spread the word far & wide! As far as which actress, the only way to answer that is to write a script which has all 3 of them opposite him! (I'm sure Abhishek wouldn't complain either!)
---
jal : who is your role model.. your father??
Rohan Sippy : definitely- though he is probably more of a hero than a role model!
---
befriendly : how did you think of taking in nana patekar in a role that cud hav dun by ny oder character actor and y hav u wasted boma irani in a small role. Hes an actor of great potential
Rohan Sippy : I am very lucky that Nana agreed to do the role, because he lifted it 100%. I think Boman's role is small, but again I don't think any other actor would have raised it to the level which he did. Just my opinion!
---
Palak : Hi Rohan! I liked both your films. Tell me, whose idea was it to make Abhishek sing 'right here right now'? By the way the song and its video rocks!
Rohan Sippy : Thanks Palak! Abhishek initially suggested it as a joke, but we held him to his word! Yeah I think Abhishek really rocked the song too!
---
pras : ROHAN...remake HITCH with Abhishek and Boman...and you will be laughing your way to bank
Rohan Sippy : I think David Dhawan is already doing that with Salman and Govinda!
---
chintu : hi rohan, congrats for making a movie like bluffmaster..its the most intelligent movie to hit Indian screens in recent times, has great script, greatest dialogues and excellent performances from the cast..its enjoyably different and is a technically slick product..Bollywood is looking fwd to u for such movies in future 2..
Rohan Sippy : Thanks Chintu, wonderful to get good fedback, its very encouraging for me, the actors & all the crew too. we will try and do our best in the future too!
---
dreamworks : u know what we have a blog where we are putting up movies wich blatantly copy other movies, your movie is gonna be in it a copy of NINE QUEENS/THE CRIMINAL we are approaching antipiracy agencies and copyrigh agencies and inform them about people who do this cheers and good luck Please try to make original movies COS YOU CAN
Rohan Sippy : i think you should do that by all means. good luck...
---
rao : ROHAN!! ROHAN!!...DARE YOU ?? to be honest in answering this. Does "CASTING COUCH" exists at large in bollywood/small screens ? Please Don't elude.
Rohan Sippy : All I can say is that I have never experienced it, but I would be very surprised if it didn't exist!
---
Lalan : Hi Rohan, How do you compare Mr. Abhishek Bachchan and Mr. Hrithik Roshan ( My fav.)?
Rohan Sippy : I think they are both very talented, and they both have very distinct personalities.Hrithik is obviously brilliant, from his dancing to his performances, he puts so much focus and concentration into his work, the end result is usually flawless.Having worked with Abhishek, I think he has developed his own individual style, which combined with the spontaneity he brings, makes it very very exciting to work with him.In short, they're both terrific!
---
sanjaykoul : The song RIGHT HERE RIGHT NOW is a song with g8 choreography and music, but then why have you kept it at the end of the movie?
Rohan Sippy : because we wanted to really enjoy the costumes choreography etc, but in the middle of the film his character is too serious to allow us to do that. So rather than compromise the way we shot it, it is better to use it at the end!
---
aarti : mr.sippy, my comments regarding this movie is fabolous really nice movie.
Rohan Sippy : thanks aarti!
---
harsh : You must cast Hrithik Roshan in your next
Rohan Sippy : I would love to- its really upto him now!
---
manpreet : NO Rohan dont take Hrithik..I LOOVE Hrithik but ABhishek is ur man he shud be in all ur films, its sweet that way I love it when directors hav associations with actors.. lyk Rakesh-Hrithik.. SRK-Adi Chopra.. Karu with SRK/Kajol/Rani... etc u shud stick with AB Baby
Rohan Sippy : I would love to keep working with Abhishek. The great thing is that there are many talented actors here, and the fact is that it is really upto them to choose who they want to work with. So the way I see it I have to work to keep developing material that will excite them to be a part of my films.
---
Milan : Is Abhishek your lucky mascot? do u take abhishek, bcoz he is your friend or any other reason?
Rohan Sippy : I woek with Abhishek because he is a talented and disciplined actor. Our friendship is a bonus that makes working easier, but when we work, it is as professionals- there is too much at stake otherwise.
---
veenaanil : We keep hearing abt abhishek singing 'Right here Right now', the song being ur idea. Wht abt ur choroegrapher? Isnt that farah Khan's work? Its simply brilliant.
Rohan Sippy : I have never taken entire credit for the song. The song came out of a discussion between Vishal & Shekhar, Abhishek & myself. And the video has been directed by Farah, for which she has been given credit. (and not just as choreographer). So the question of taking credit for her brilliant work doesn't arise.
---
rao : ROHAN!! That was a politically correct answer. An old timer in bollywood like you pleading ignorance about "CASTING COUCH" is not convincing.
Rohan Sippy : i am not being p.c. i said first hand i have never seen it, though I am sure it does exist.
---
bp : hi rohan please name the ONE director and the ONE actor u look upto in india..
Rohan Sippy : easy- ramesh sippy and amitabh bachchan!
---
morpheus6 : hi rohan..!..Just seen BM..~!, Great movie..!...i sincerely hope it works with the masses cuz they eventually decide on turning it into a money spinner esp. in India..!..Anyways, any plans of making more movies with AB jr..!..btw...hes terrific in BM..!
Rohan Sippy : Thanks so much- so far people seem to be liking it. Definitely want to continue working with Abhishek, just finishing up the writing, at which time things will be clearer...
---
jyotiapathak : would love to see a movie of urs with amitji as well
Rohan Sippy : it would be a dream come true to work with him- I am sure that is true of any film director in this country!
---
Shastri : You are two films old and have very good job. Congrats , i like both of urs films. Also hope you make some more good movies all the best
Rohan Sippy : thanks so much for your good wishes!
---
coolbrush : Rohan, BLUFFMASTER is a gr8 movie to watch. Keep making GOOD films.
Rohan Sippy : thanks, I will keep trying!
---
parus : ramesh sippy-amitabh********rohan-abhishek
Rohan Sippy : I don't think you can comapre the two- I think if we achieve 1% of our fathers, we will both be happy.
---
pallavi : what do u feel abt the remake of SHOLAY
Rohan Sippy : I think that it is a great money making proposition- sabse bada rupaiya!
---
jay : How was ur experiance of working with Nana and Ritesh? ... Did u face any problem with 'eccentric' (so called) Nana? And how u feel Ritesh is developing as actor? Also what is ur plan for next venture? R we going to see action flick this time from u?
Rohan Sippy : Nana was an absolute pleasure to work with- I just wish we had more scenes with him, so I would get more of an opportunity to direct him! And I think Riteish is fantastic, with each film he is proving how good he really is. I discussed my plans earlier in this chat, so check it out! (Would love to take on the right kind of action film though!)
---
s_uraj1 : a simple question Rohan...dont u think the directors are getting very less credit for a film..even though they r(and not the heroes) the heart and soul of a film...
Rohan Sippy : I think film making is really a team effort. Along with the actors, it is not just the director, but the entire crew who work as hard on every shot and every nuance of the film. And they deserve to share the credit as well.
---
lastango : Who desrves more respect ? A person who makes it on his own or one who is from a filmi background ?
Rohan Sippy : defintely someone who makes it on their own. It is difficult even for someone with a background, but for someone to make it on their own, means they are exceptionally talented & determined!
---
lastango : Why has Bluffmaster performed below par in the overseas despite all the good foreign reviews ?
Rohan Sippy : the fact is that it is far too early to judge the film. the only thing i know is that a young audience is really liking the film, so I don't think we should be in a hurry to make an assessment. My distributors seem to be happy, which is what is most important!
---
Rocky : Hi Rohan. This is Rocky for US. We all loved the movie but for some reason the reviews i read from India didnt look gr8. do u think that Indian public is still not ready for creative themes like this one. Thanks and gr8 job.
Rohan Sippy : thanks rocky- i think the press here are fairly irrelevant, and very far removed from the audience that buys tickets (unlike them!) The fact is that the film is doing really well here, particularly in the cities, and a young audience seems to have really taken to it. We made a film that was supposed to be fun, and its nice to know that a lot of people have enjoyed it.
---
truman_ : 4th attempt: Mr Sippy, I heard you worked in a coffee joint in NY. Is it true? Why did you do that? What was the experience like?
Rohan Sippy : I did it- to earn my own money of course! It was great (a pain to get up at 6 in the morning in the winter though!), but it made me really appreciate the people who serve us in restaurants! Its not an easy job!
---
manpreet : 100th attempt LOL: ROHAN! I am going to watch Bluffmaster again today, I'm leaving in 10 minutes.. tell me please DOES SIPPY FILMS HAVE AN EMAIL ADDRESS OR WEBSITE?
Rohan Sippy : also, the website is bluffmasterthefilm.com
---
Rohan Sippy : not sure if my last message went out, but I will be signing out now. Just want to thank everyone who logged in. it has been great to read all the feedback- trust me, you are the only critics who matter, since you spend your heard earned money at the movies! Hope that we can continue to entertain you- we will be trying our hardest to do so!