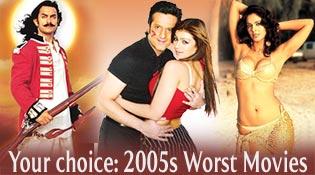 All right, so 2005 has had some pretty bad movies.
Last year's skin-flick brigade trotted to prominence this year, with cheap eye-candy to be found everywhere -- some even legitimised by the biggest production houses in the country.
This has been a year of successful comedies, but every self-proclaimed 'laugh-riot' this year has had men lacking fidelity -- almost as much as their filmmakers lacked finesse.
Originality seems to be an alien concept, when every 'slickly made' film that hits theatres on Friday is 'borrowed' from an English DVD. Almost everything was a remake.
Great actors have floundered. Talented directors have disappointed. Standards have fallen further.
Now, it's time for payback. Now, you get to decide the Worst Films of 2005.
Sit down and dissect the painful films, the ones it was sheer torture to sit through, and get yourself some vengeance, by giving us your list of the 10 worst films of 2005.
Bring on the fury.