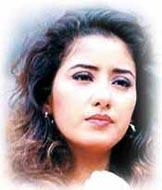 It's hard to handle fame, they say. It's harder still to handle the lack of it.
A case in point is actress Manisha Koirala, Bollywood's heroine number 1 not too long ago.
Having stolen many hearts with films like 1942: A Love Story (1993), Akele Hum Akele Tum (1995), Dil Se (1998) and Company (2002), Manisha's career went downhill thereafter. So much so that the audiences started ignoring her presence even in B grade films like Market (2003).
On a comeback trail, the actress has recently finished shooting for Rituparno Ghosh's Bengali film Khela. The director was all praise for the Nepali beauty: "She is a skilled professional with a curiosity of a debutante. Like Aishwarya Rai, she possesses a quiet dignity which instantly makes her a class apart," he said. 
| | |
| --- | --- |
| | More on rediff.com! |
| | |
But is Manisha pining for her glory days? Because, a mere mention of 1942… made the actress so emotional that she ended an interview with rediff.com mid way, and we had to interview her again. Excerpts from the eventful conversations:

What made you agree to Khela?

I am a great fan of Rituparno's films and have always nurtured a wish of acting in his films. I was very impressed with his Chokher Bali, Bariwali and Raincoat. In fact, I was offered a role in Antarmahal but couldn't do it because of date problems. When Ritu offered me Khela, I couldn't be happier.

Tell us about the film.

As is the case with Rituparno's films, this one too harps on relationships, which happens to be my favourite genre as well. The film deals with a couple's conflict and subsequent estrangement over having a child.

Does that mean you will play the lonely housewife of Akele Hum Akele Tum or Tum: A Dangerous Obsession?

Not at all. Ritu's films have nothing in common with the Hindi films. I would have never agreed to act in Khela if it did. The film does speak about a housewife's loneliness [but] with a subtlety unique of Ritu's style. It was a wonderful experience acting with Prasenjit Chatterjee, the reigning king of Kolkata's film industry.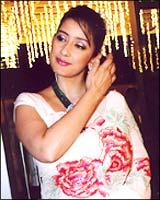 Will we see you in more regional films in future?
Why not? I am keen to do roles that are down-to-earth, appealing and sensitive. I am always for signing films that will let me be myself. If that means appearing in more regional films that are as aesthetically inspiring as Khela, I see no reason why I shouldn't accept them.
Why don't we see you on the big screen more often?
I believe there is a time for everything. Time changes and you need to accept that. Else, you stagnate. I had enough of running-around-trees. I need to move on and need to concentrate on more meaningful roles.
You mean roles like those in 1942… weren't meaningful enough?
Please don't put words in my mouth. I never meant I did not have a meaningful role in 1942… I actually meant an actor's level of concentration changes with age. I was in a particular level of mind when I acted in 1942... I had to consciously break that mould to act in Company. Acting is all about such constant adjustments and modifications.
After doing more than 50 films, I got bored and took a break, studied filmmaking in New York and produced Paisa Vasool [2004]. Sabbatical over, I have started signing films again.
[Manisha's first release post-sabbatical has been Akbar Khan's Taj Mahal. Among her films on the anvil are Ram Gopal Varma's Darwaza Bandh Rakhna and Shiv.]
When will you put your filmmaking training to use?
I am seriously contemplating making a film that will be sensitive yet different, Indian yet bearing international traits. I am more than 50-films old and hence experienced enough to take a stance behind the camera. As for the subject of the film, I am toying with several ideas at the moment and haven't zeroed in on anything in particular.
What tops your priority list at the moment?
Signing offbeat films and seeking out the challenge in roles offered to me. I want to focus on playing characters beyond teenage stereotypes. After all, a difficult role brings out the true worth of an actor.