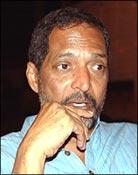 We enter an old Hyderabadi home on the first floor – a beautifully 'recreated' set at Ramoji Film City. A closer look reveals the home is replete with nostalgia – photographs, objects, furniture and so on. "The interiors are done with minute detailing by art director Samir Chanda in accordance with the script," says Goutam Ghosh, directing his latest film Yatra. Behind us, around three musicians rehearse an old Qader Pia composition.
Ghosh delineates the outline of the story: "Yatra is basically a writer's journey. It is about a man working on a new novel. As it is in the germination stage, he is concerned about the idea of his new novel – but the old characters still beckon, they keep coming up. His real life gets mingled with the characters of his novel."
| | |
| --- | --- |
| | More on rediff.com! |
| | |
Yatra is a multi-layered film – the writer is travelling from one place to another. On one of his trips, there's a co-passenger, a filmmaker who admires the writer. He feels the subject could make for an interesting film. So he's conceiving the film visually. "The film has two layers – the visualisation of the filmmaker and imagination of the writer. So, the creative processes of both come to light. The dichotomy between fact and fiction is also depicted because, in any writing, you combine fact with fiction – you base your ideas on things that are real, sometimes unreal and sometimes surreal. It's a combination," says Ghosh.
"Nana Patekar plays the writer (Dashrath Joglekar) as well as the protagonist of his novel -- because he identifies himself with his protagonist. He is playing two characters -- or, one could say, an alter ego. He belongs to the Adilabad district in Andhra Pradesh. I thought Nana's look would be the right one for the protagonist."
Rekha is one of the characters from the writer's earlier novel. "She is Lajwanti, a singer-dancer from Benaras-Lucknow, a mysterious character whom the writer becomes obsessed with. Deepti Naval plays Dashrath's wife. The story also shows the transformation from rural to urban as the couple shifts from Adilabad to Hyderabad. So, there are many sub-texts," adds the director.
The film is being shot mainly at Ramoji Film City, while a few portions are shot in the old Hyderabad and Telangana area of Andhra Pradesh. Some sequences may also be shot on a train.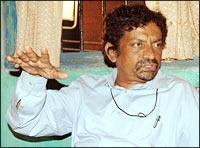 "The title Yatra was given by Nana Patekar," says Ghosh. "When he began reading the script, he asked if I had a title. I told him I was considering Safar, but he suggested Yatra instead." Scripted by Ghosh, the film has dialogues by Rashid Iqbal. Ghosh usually scores the music for all his films. "Here I am using authentic music – not filmi music. This particular composition (thumri) in Raag Pilu is a great, traditional composition by Qader Pia – a great composer of the early twentieth century. Another Birju Maharaj composition will also figure in the film. All these compositions are being choreographed by the eminent Kathak dancer Saswati Sen."
Ghosh also handles the camera for his films. Is it not strenuous to multi-task? "It is," he agrees, "but I find it's a creative effort. I am almost in a trance when I shoot."
Yatra is likely to be ready by February-March. "We are hoping to send it to Cannes," says Ghosh, before he sets off to arrange for the shoot.
Rekha arrives for a song sequence in the house, in the presence of the musicians. Saswati Sen advises her on the movements and, while she is at it, we chat with Nana Patekar who has already spent a few minutes on the set. He asks for chairs and coffee and, as we settle down, we ask him what made him sign the film. He immediately replies, "Goutam Ghosh. I respect him as a filmmaker. The kind of dimension to this role is amazing – I have got something like this after a long time. It is an honour to work with Ghosh because I never imagined a director like him would ask me to act in his film."
Saswati Sen, who is choreographing the compositions on her own for the first time (she has assisted her guru Birju Maharaj on Gadar and Devdas) says, "To be able to assist another artiste is a challenge. Rekha and I are very comfortable working with each other. I always wanted to work with Goutam Ghosh ever since I saw his film Paar. We have been in touch since the 1980s but this is the first time I will be working on one of his films. It is a dream come true."
Photographs: KR Vinayan