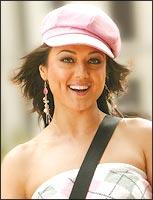 A little faster, Akku, a little faster," choreographer Farah Khan tells Akshay Kumar as he puts his hand around Preity Zinta's waist and starts to dance. In the background, a male voice croons to a romantic song. The score is unmistakably 'adapted' from the popular Michael Jackson theme song Will you be there from the hit 1993 film, Free Willy.

As Akshay and Preity dance, about 40 extras -- Latinos, African Americans and Caucasians -- waltz in the background. But Farah is concentrating on the couple. "Preity, I want you to smile more," she instructs. "Look into each others' eyes more when you dance."

The rehearsal has been going on for several hours.
| | |
| --- | --- |
| | More on rediff.com! |
| | |
We're on the sets of Jaaneman, directed by Farah's husband and first-time director Shirish Kunder. Shirish is not present on location yet. He is expected to arrive only after Farah has trained the stars and dancers. There will be some more rehearsals after his arrival and then the shooting will begin.

It is a crisp autumn day, and the shooting is taking place in a park close to the Brooklyn Bridge. It is a terrific location, with a lot of greenery, water, the clear New York sky, and monumental bridges.

As Farah is going through her grind, Salman Khan, who will join the scene later, is pacing up and down the ramp, speaking endlessly on his mobile. He stops for a few minutes, and watches Akshay and Preity dancing.

But don't even think of asking him for an autograph or even greeting him with a polite 'hello.' There are couple of beefy friends, who are also doubling as his security detail, keeping an eye on him, along with about 50 desi onlookers. He has been around for several weeks, and has been pulled from the shoot to do a promo for Kyon Ki. He doesn't enjoy doing such things, but has obliged veteran director Priyadarshan.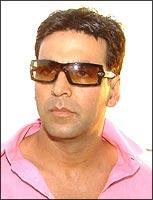 The word has spread that Jaaneman is being shot in several colourful parts of New York but the producers or, for that matter, anyone connected with it, will not tell us what it is about. There won't be photographs, a journalist and his photographer are told. But they can write about the scene.

But there is a man in the corner, who looks Chinese or Japanese, taking a few pictures furiously. We point him out to the security guys. "He is a tourist," we are told. "But you are journalists." Apparently, the producers want to keep the entire shoot in a state of animated suspense. "Other producers may steal ideas from us," says a still photographer hired by the company. "There is always a lot of stealing going on."

Akshay and Preity are now locked in another embrace. Salman is still talking on the mobile, and the dancers are fiddling with their skimpy skirts. And in the background you hear Basil Pouldouris's score from Free Willy.