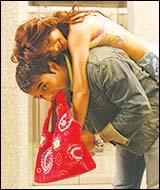 See, this is the thing: a push-up bra does not a film make. But then again, it might just bring in the viewers.
Neal 'N' Nikki is a derivative romantic comedy, with scarcely an original line in its skimpily dressed body. But it is nothing but skin that Yashraj Films has marketed, the promos boasting of Nikki 'sweet (debatably) and sexy (even more so)' Bakshi, and while none of the junta has ever nursed a crush for Tanissha, her near-nudity in the film does arouse interest, and this film could conceivably do well.
Which is pitiable, because there's nothing in it. Okay, to be fair, it must be said that at a conceptual level, when the script was being churned, there was typically Hollywood suggestive innuendo. Not the clever kind, you understand, but the high-fiving dialogue seen in assembly line American teen comedies.
But then this is a Yashraj Film, and therefore it tries to straddle two worlds: Wannabe Hollywood popcorn via the Archie comics galaxy; and a parallel universe, simply called Shah Rukh Khan.
| | |
| --- | --- |
| | More on rediff.com! |
| | |
King Khan is missing from this film only by name, because his character tramples all over the script. Uday Chopra, who is tolerable when underplayed, in films like Dhoom, here thrusts himself into the SRKlight and boogies like mad.
Sadly, not just is Uday no star (forget mega or super), he is no actor. Quips and arrogant one-liners set up situations Shah Rukh would have effortlessly turned into movie magic, but Uday emerges merely as a bratty producer's son, leaping through SRK's trademark hoops and bungling the jumps.
He tries his hand at American football, dresses up like DDLJ's Raj, and imitates the Khan at every possible step. Uday, you're trying tragically too hard.
And then there's the girl. If you thought only superheroes wore their underwear on the outside, Nikki Bakshi throws convention (and most clothing) to the winds, bouncing around in insane outfits that would (honestly) be out of place in Rio de Janeiro. And for all her exposing bravado, Tanissha can't act to save her life.
A shrieky and annoying brat seems a role this star-child is born to play, but even in an out-and-out, inanely candyfloss film like Neal 'N' Nikki, there are moments requiring emotion. Nikki is supposed to be furious at Neal, her feelings bordering on hate, and what we end up seeing on her lips is a barely suppressed grin.
The film isn't about the actors; it's purely about shock. So when Nikki mouths 'a****le' and steers very close to saying the F-word, it's supposed to connect with the college generation. When Neal jeers at virginity like it's unthinkable, that's supposed to be kewl. It is more than evident that this film is just trying to be another mindless teen flick, but all you end up seeing is packaging.
Director Arjun Sablok has shot the film in Canada, and so we're treated to luscious picture-postcard backdrops, far more attractive than the couple monkeying around in the foreground. A fleeting cameo by a Yashraj mascot, predictably, is the moment the audience chooses to go wild, far more than the much promised 21 kisses, which are an extremely damp squib. The film also stars several bikini-clad Sports Illustrated-worthy models, as the fleet of fancy Neal is trying to bed.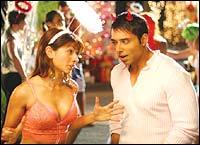 Which, I just remembered, brings us to the (for lack of a better word) plot: Neal's a cad, has agreed to an arranged marriage, but wants serious action in the 21 days before his wedding. Nikki's a drunk who can't keep her job, but is terrific at messing up Neal's attempts at scoring. He thinks she's easy; she thinks he's cheesy, and the two become friends.Yada yada yada, love-shmove, ridiculous attempts at misunderstanding, and an ending you know before you go in to see the film.
Is this a watchable film? Sure, you don't mind it. You keep thinking that there are lines that have potential, and because of the stated SRK hangover, how 'he' would have mouthed them. You keep thinking how an actress could have fleshed out Nikki, and made her a memorable character. The songs are fun and spirited, and speak today's language, especially with lines like 'I'm the Neal' and 'full-on rocking'. Despite yourself, there are moments in the film that are sweetly drawn, and you end up giving them a smile or even a laugh. But always with a wistful 'aww', as in 'aww, this could actually have been a good scene.'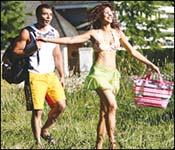 This film isn't meant for small towns, because there is nothing Indian about the flavour. It apes Hollywood completely. But as a multiplex film, it's a puzzling choice, because which college kid would choose this attempt at cloning over, well, any comedy starring Cameron Diaz or Jason Biggs or Paris Hilton or whoever? Honestly, why shouldn't you just watch the kind of film Neal 'N' Nikki is really trying to be?
Yashraj answers this by ripping clothes off and throwing us the curve(s). The skin-factor has been very heavily promoted, and the film might actually do well, just as sleaze in slick clothing, a skin film that you can legitimately tell your mom you're going to watch.
This year, with films like No Entry and Garam Masala, we've already seen that heroines can be relegated to zero importance in the success of a film. If Neal 'N' Nikki is a hit, it'll just mean we can crank out mindless films where the leading actors aren't important at all.
Which is a terrifying thought.