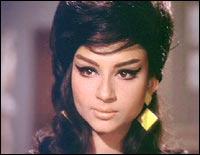 Yesteryear Bollywood leading lady and Censor Board chairperson Sharmila Tagore has been nominated as the UNICEF Goodwill Ambassador to raise awareness about the impact of AIDS on children in India.
Tagore, who celebrated her 59th birthday today, joined actors like Roger Moore, Jackie Chan, Shakira, Amitabh Bachchan and sarod maestro Ustad Amjad Ali Khan, to highlight the problems faced by children.
The dimpled actress said she knew it was a demanding role and hoped Indians would support her changeover from a peddler of fantasy to an activist of the real world.
"This is a wonderful birthday gift, a touching gesture. I would speak on behalf of children, their rights, needs and future because every child has the right to live in a community, country and the world," she said.
"Children are often ignored when it comes to AIDS and it is high time we understood that the disease can wreak havoc on childhood. We need to stand between children and death. Children often do not appear in the minds of the policymakers, pharmaceutical companies and other important people. They are easily forgotten because they do not have the purchasing power and because they can't vote, can't form pressure groups," she said.
Tagore, who has worked with UNICEF on polio eradication programmes, will soon kickstart a campaign tour, her first stop being Andhra Pradesh. She will also conduct interviews and work on a film depicting the plight of HIV-infected children.