Nothing can make you smile like a fable.
The setting is as idyllic as can be. A small village up in Himachal Pradesh, one of those Malgudi-type worlds where everyone knows everyone else, where there is tremendous peace and harmony set against a breathtakingly beautiful backdrop. All is well with this world.
Blue Umbrella opens on Nandkishor, a scruffy shopkeeper lying on a charpoy with his hand stroking his bald pate, and headphones plugged into his years, courtesy a fairground robot telling him his fortune. The mechanical voice assures Nandu that he will come into great wealth and fame, enough to rival or outclass someone called 'Bill Gate', a person who, the robot's coin-counting master assures, is very rich indeed.
Nandu, played by the inimitable Pankaj Kapur, is a shrewd feller, a shopkeeper with savvy, and he has seen something he likes. A little girl in the village, Biniya (debutante Shreya), has a bright blue umbrella, and he is utterly captivated.
To be fair, he isn't the only one. The umbrella is marvellous, an ornate creation apparently of Japanese origin. It opens up to form a superb blue circle, contrasting beautifully against the often snowy Himachal backdrop. Biniya, a friendly nine-year-old, shares her acquisition with friends, but staunchly counters any offers attempting to seduce the umbrella from her possession. As she bounces happily around the village, several eyes want to wrest the umbrella from her grip.
Don't miss: Rediff's Pick of the Week: Blue Umbrella
Until, one day, the brolly is stolen. Biniya is heartbroken, and the village is stunned. The young girl suspects the wily Nandu, and gets the policemen to ransack his shanty, the tiny shack that also doubles up as his store. Nothing is found, and Nandkishor is hurt and indignant. His pride stung, Nandu now proclaims that he too will order one of these expensive umbrellas, and the whole village is shaken when, after a few weeks, a bright red umbrella arrives at his door.
Nandu's umbrella makes him the focus of attention, especially as the village is apologetic to have suspected him in the first place. He struts merrily around like he owns the town, letting eager villagers touch the umbrella, and posing grandly with tourists who want to have their picture taken with this umbrella man. The village even wants him to preside over the annual wrestling match, which is a visibly big deal.
But all is not what it seems. Biniya is an extremely enterprising child, and she mounts her own investigations to uncover her umbrella thief.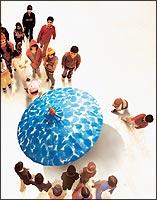 The story unfolds masterfully, at a languorous pace with the plot revelations serving to bring up issues of ostracism, loss, longing and loneliness, without ever becoming too heavy. The film, slow in the beginning, works magnificently on the whole.
A large chunk of this credit must go to the cinematographer, Sachin K Krishn, last seen with the dramatically different horror film Vaastu Shastra. Blue Umbrella, a low-budget production, deals powerfully with snow and nature, all the while superbly highlighting the umbrella, something director Vishal Bhardwaj treats almost like a protagonist in the narrative.
Based on the Ruskin Bond novella of the same name, Vishal and his scriptwriters have embellished and created extra sections, all in conversation with the author.
The result is a powerful film, a fairytale where the umbrella is supreme metaphor, and can symbolise anything to anyone. The umbrella connotes desire and status, love and greed. Vishal weilds a magical wand, creating a profound, simplistic tale of humanity and emotion.
And there's a fabulous Quentin Tarantino reference smack dab in the middle of it all.
Pankaj Kapur, arguably the finest actor we've had, gives this film a richly nuanced performance, his textured portrayal of Nandkishor making him the leading man. Kapur, with a sloppy old-man look and a delightful accent, owns every frame he is in, and gives Blue Umbrella the pathos and drama it requires. If we didn't already know him as one of our finest ever, this role would have been a revelation. Now, it is simply more Pankaj Kapur magic.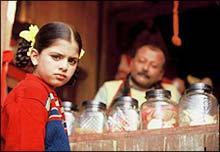 Shreya does very well as Biniya, and is always convincing. Her role does not call for histrionics and hi-jinx, but demands maturity, and her work in the dramatic showdowns is extremely impressive indeed. This is a great movie to debut in, and the young actress could likely get snapped up by other filmmakers soon.
Vishal has always been one of the industry's most interesting directors. Starting out with music direction for Gulzar's Maachis, he made his directorial debut with the children's film Makdee (2002). Earnest in intention and unique in approach, Makdee worked largely in fits and starts, but remains very enjoyable on repeat viewing. His next, Maqbool, where Shakespeare's Macbeth met The Godfather, blew the industry away with compelling drama and startling performances.
But I like the new film the best, because while Makdee intrigues you and Maqbool has moments to make your jaw drop with awe, Blue Umbrella just makes you smile.
Rediff Rating: