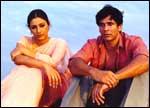 I had expectations of Bhaggmati: The Queen Of Fortunes.
A marriage of live action and animation sounded exciting, path-breaking. Besides, the film featured an award-winning, Tabu and our very own Indian Greek God, Milind Soman (Both incidentally share a birthday, November 4).
Tabu, an archaeology student, is fascinated by a love story of yore -- the tale of Bhaggmati and Prince Qutab Quli Shah of Golconda, who fell hopelessly in love (fairytale style) and married despite the odds.
| | |
| --- | --- |
| | More on rediff.com ! |
| | |
Tabu begins her quest -- research on the story of Bhaggmati under the mentorship of an eccentric professor. Her urges her to restrategise her bookish approach, and rather listen, to really experience a slice of history.

She visits the remains of a fort, once occupied by Bhaggmati and her Prince, in the hope of 'listening' to the past. Meanwhile, the professor plays cupid and introduces her to fellow-student Aseem (Soman), a descendent of the Qutab Shahi dynasty.

Aseem pursues her romantically, while she starts 'experiencing' the life and times of Bhaggmati. Cut to the animation and the fate of Bhaggmati and her prince. And so on and so forth.

Now, the lowdown on the actual execution.

We got a spot of world-class animation at the start of the film, and waited in gleeful anticipation for more world-class animation. Alas, that was not to be. And it was nothing less than an act of will to sit through two hours and 40 minutes of corny dialogue, tacky direction and… surprise, surprise, some god-awful, bottom-of-the-rung, low-quality animation.

Many staged a walkout half way through the film and every time the prince affectionately addressed his bride as 'Bhaag', all we wanted to do was just that -- flee!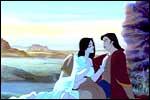 Bhaggmati's animated character could give Barbie and Pamela Anderson a run for their money. With a bust size that must exceed 40, she oozes sex appeal from every pore, while her beau, resembles a beefcake and sports a deadpan expression, throughout the film. Can those illustrators!
Their first meeting is electric. She's hopping along merrily in the forest, while he is heading back to the palace on horseback. They meet, their pupils dilate, her bosom heaves, there's instant chemistry. Love happens! We get to hear more psychobabble by the lovers, with lines like 'Agar tum meri roshini ho, toh mein aapka suraj.' Suicide!
A word of caution for parents: As the prince romances his princess, her towel slides off, she slips into her bubble bath, to reveal her ample bosom. A parent who until that moment was enjoying a 'family outing' with his little son, bolted for the door, while the little chappie kept twisting head with indignation, to hopefully catch a glimpse of bobbing breasts.
The animation did offer us some respite though; the characters delivered a better performance than their real life counterparts, though it would be unfair to completely blame the latter, as no amount of acting prowess can salvage a terrible script.
The chemistry between Milind Soman and Tabu is zilch. He appears to be thinking of someone else, while stroking her cheek and she looks like she's afraid he's going to bite, during the love screens. Besides, they do not even remotely resemble college students.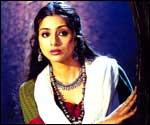 But we are soon in for a treat -- a recital by timeless dance diva, Hema Malini. She looked simply ravishing in a deep red costume. Her expressions are so alive and hand movements so graceful, as compared to Tabu's fighter like, stilted moves (besides studies, she dances too).
The worst performance award must go to director Ashol Kaul who plays the professor. Every time he appears onscreen, the audience would burst into a volley of giggles and sometimes, hoots of laughter. He tries to lend profundity to his character as well as a vintage touch, by smoking a pipe, donning a hat, playing the artist and delivering cryptic lines which connect the past and the future, the present and the past and such balderdash.
And there are many songs -- all very harsh on the ears and tedious on the eye.
The final verdict, Bhaggmati is a good concept gone awry, so save yourself the trouble.