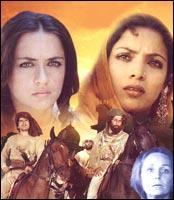 W
ith the release of Mangal Pandey: The Rising, Ketan Mehta's historical epic exploring India's First War of Independence in 1857, it's rewind time for Bollywood.
So we decided to look back at more Hindi cinema set in that crucial period of Indian history.
This is the second in a three-part feature which takes a look at two stunning films set in the same era, and culminates in a piece about the Aamir Khan starrer.
After exploring Satyajit Ray's Shatranj Ke Khilari, we come to Shyam Benegal's unforgettable Junoon.
...
Shyam Benegal's 1978 film
Junoon
 is made magnificent by the universally flawless performances. Shabana Azmi leads the pack with her scowling, nagging Firdaus, whose face lights up brilliantly only in one scene. The English are coming, and the Indians are fleeing away from home, the more fortunate ones trundled into bullock-carts and makeshift palanquins. She spots her husband, the dashing Javed (Shashi Kapoor) gallop into view, looking desperately for them. Firdaus calls him to her, and flashes a beautiful smile.
| | |
| --- | --- |
| | More on rediff.com ! |
| | |
But the battle-returned Javed has no time to appreciate the glowing visage. He looks at her sternly and asks a simple question, roughly: "Where are the British?" She is taken aback. "Wh-what?" The husband doesn't notice her being on the verge of tears, and doesn't care. He barks out the question again, and she stammers the answer through her sobs. He turns his horse around, and rides away into the distance as Firdaus breaks down in hopeless anguish. She thinks she has lost her husband to an English girl.

The year is 1857, and Mangal Pandey has been executed. Apocryphal tales of the martyr have spread across the heartland, inspiring the nation to mutiny. Benegal's screenplay is based on Ruskin Bond's heartrending novel, Flight of the Pigeons, and deals with an English family, the Labadoors. Bloodthirsty carnage in a church one Sunday morning leaves only young Ruth Labadoor (the lovely, perfectly cast Nafisa Ali) alive, as her father perishes.

This massacre is led by a seemingly insane fanatic, Sarfaraz (Naseeruddin Shah), who has no qualms about slashing a priest in two. The English must die! The Labadoors find desperate shelter in the home of an old Indian ally, Mohanlal (Kulbhushan Kharbanda), but are soon discovered there by the fierce Pathan, Javed.

As devoted to the cause as his brother-in-law Sarfaraz, Javed is an affluent man who can't bring himself to be equally ruthless. The lover of pigeons takes the three Labadoor women -- Ruth, her mother Miriam (Jennifer Kendal), and ailing grandmother -- to his own home.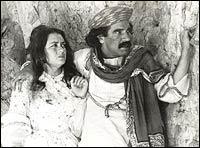 But it's not all mercy, because Javed is suffering from the mad obsession of love. He wants Ruth, and he must have her. His nobility does not allow him to use force, and his constantly subjugated requests to Ruth's mother are a testimony to the strength of his desire: No Pathan would bend himself to such humiliation.
Miriam is unrelenting, and this frustrates Javed no end. Eventually, the two strike a peculiar, greatly symbolic deal: Miriam promises him that he may have Ruth, but only if the Indians can win Delhi.
Throughout the film, Benegal eschews realism for the theatrical, leaving us in a constant state of high drama. The first few fight scenes seem sparse and somewhat contrived -- most of the British are killed almost bloodlessly at church -- but we soon realise that this is not a film aiming at achieving visual authenticity. It is a great story, and the director pulls every narrative device -- including a fantastic pir (Rajesh Vivek) as a minstrel soothsayer -- out of the hat to create an epic Shakespearian tragedy superbly grounded in the era.
The dialogues, by the incomparable Satyadev Dubey and Ismat Chugtai, are a marvel.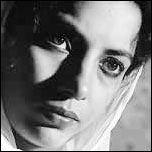 While the film may not be as detailed as today's mammoth budget productions, what the director manages to do is recreate a flavour, a feeling of the life and times. When Sarfaraz comes to Javed's house, killing the 'traitor' pigeons in a fit of anguish before yelling that they have indeed lost Delhi, we are lost in the tear-fuelled soliloquy. Yes, the man is indeed an alarming killer, but the stories of the British atrocities that have driven him to the sword are blood-curdling. And then come Ruth's nightmares: Sarfaraz strapped to a cannon and being blown away.
This is an overwhelmingly powerful film, a bittersweet, entirely futile love story set against a crucial period backdrop. Both blood and lust are dealt with masterfully, and that is no mean feat. And the performances remain eternally haunting.
Don't miss: In conclusion: Mangal Pandey.