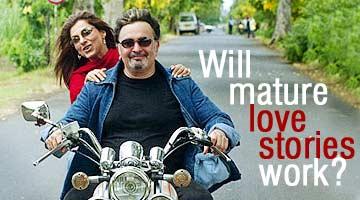 At a time when yuppie love rules the screen and stars keep looking younger, here comes a mature love story, Pyaar Mein Twist, starring Rishi Kapoor and Dimple Kapadia.
Years ago, as youngsters, the duo charmed audiences with Bobby (1973) and Saagar (1985).
But will their charm work now, when both are well past their prime?
Amitabh Bachchan and Hema Malini managed that in Baghban (2003). But that's probably the only film about an older couple's romance that has actually worked.
Are audiences ready for a mature love story? Have your say!