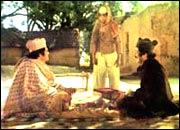 With the release of Mangal Pandey: The Rising, Ketan Mehta's historical epic exploring India's First War of Independence in 1857, it's rewind time for Bollywood.
So we decided to look back at more Hindi cinema set in that crucial period of Indian history.
This is the first of a three-part feature which takes a look at two stunning films set in the same era, and culminates in a piece about the Aamir Khan starrer.
We begin with Satyajit Ray's 1977 film Shatranj Ke Khilari, set in early 1856.
| | |
| --- | --- |
| | More on rediff.com! |
| | |
...
There is a particularly arresting moment in Shatranj Ke Khilari when General Outram (Richard Attenborough) is quizzing a local Captain (Weston, played by Tom Alter) about the habits of Nawab Wajid Ali Shah, the last Nawab of Lucknow. The question he poses is tough, but fair: Is he any good as a poet, or do they just say he's good, because he's the Nawab?
Weston states his opinion that the Nawab is indeed a gifted poet, and, upon Outram's prodding, recites a few lines to indulge the General, who likes 'the sound of Hindustani.'
After Weston finishes the exquisitely-worded couplet, Outram asks him what it means, and Alter replies:
'Wound not my bleeding body,
Throw flowers gently on my grave.
Though mingled with the earth, I rose up to the skies.
People mistook my rising dust for the heavens.'
Outram is clearly unimpressed, but Weston, insisting on the poem's quality, says, 'It doesn't translate very well, sir.'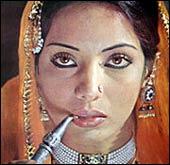 Satyajit Ray's first feature film in Hindi didn't come with the slightest hint of a Bengali accent. The filmmaker's script, drafted painstakingly by himself, Shama Zaidi and Javed Siddiqi, flowed marvellously from pristine (yet intelligible) Urdu to propah English. And, in agreement with Captain Weston, the film mercifully avoids translation of any kind.
The Urdu is impeccable, and even if a discerning viewer misses the specific meaning of a word or three, their simple context allows for easily grasped gist. The English scenes are just those, natural dialogue between British officers, not requiring a recap in Hindi later. And there is a narrator, essentially for the first few scenes of the film, introducing us to the story's characters.
The film opens in absolute black, as two chess players sit and play, their vacuum impended only by the hookah lying next to them. The game is afoot, and as Amitabh Bachchan's magnificent voice tells us, this seems a constant state of affairs.
Mirza Sajjad Ali (Sanjeev Kumar) and Mir Roshan Ali (Saeed Jaffrey), are a pair of feudal lords with an overwhelming passion for chess. The daily routine has settled into agreeable monotony, as the Mir drops by affably every morning, and betel chewing accompanies their gambits until the late evening hours. Do the two nobles have nothing else to do? Of course not, the narrator assures, since when have fiefs ever had to work for a living?
The year is 1856, and the British are irked by the frivolous ruler of Awadh. One of their richest provinces, and one that has resisted British rule through frequent showers of generosity, the state is ruled by Nawab Wajid Ali Shah (Amjad Khan), a king with governance far from his mind. General Outram is on a decidedly unfair mission to revoke an existing treaty, and demand the Nawab's abdication, placing the British in charge of the state.
But Mir sahab couldn't be bothered. All he's wondering is how to maneouvre a couple of pieces around while Sajjad Ali isn't looking. Chess, as the two friends proudly proclaim, is what is important. Which is why one has a neglected wife desperate for attention, while the other is a cuckold. But no matter, as long as they have the game.
Shatranj Ke Khilari brilliantly depicts the increasing apathy of the Indian upper class, showing how even seemingly harmless passion can become all-encompassing obsession, and banalities of the daily games overpower life itself.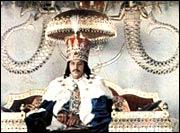 While not among the master filmmaker's finest, Shatranj Ke Khilari indeed showed Hindi cinema what the director could do when stepping across the language line. The film boasts of exclusively brilliant performances, especially from Saeed Jaffrey and Amjad Khan, and the period setting is established not by lavish epic sets, but rather through exclusion. The shots focus on flying kites, elaborate costumes and well-decorated yet smallish interiors, instead of sprawling landscapes. The authentic period lies in the details, the script, the performances. We never doubt the 1856 setting, even as the visionary director goes as far as inserting incredibly quirky, simplistic animation (a technique directors like Terry Gilliam used in subsequent years, to great effect) to aid his narrative.
The film is based on a short story by the great Hindi writer Munshi Premchand. Ray liked the relationship with the chess players, but expanded the theme greatly, giving prominence to Outram and the Nawab, and adding more characters. The resultant film is elaborately balanced between humour and pathos, between a light film and clever allegory. An eminently watchable classic.
Ray is decidedly non-partisan, neither siding with the Nawab or the British, though there are well-crafted moments when we feel sympathetic towards both the kohl-eyed king and the reluctant General. This apolitical stance the film takes further illustrates Ray's fundamental point: extreme ennui.
A truly fine specimen of period cinema, Shatranj Ke Khilari makes for a most accessible, and witty, bit of social commentary.
And one can't help but smile at the irony that Sanjeev Kumar's character spends most of his screen time with his arms cloaked into invisibility.
Don't miss: Tomorrow, Shyam Benegal's Junoon!