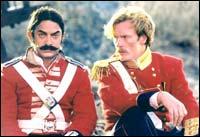 Aamir Khan's historical epic Mangal Pandey, which released on August 12, is on the verge of being declared a flop. The collections have been sliding downwards since Tuesday.
Mangal Pandey was released with over 600 prints worldwide and had a fabulous opening in city multiplexes. Unfortunately, it could not sustain and many theatres are running half-empty.
"The collections have dropped by 50 percent from Tuesday and I think the film is a looser," says film trade analyst Komal Nahta.
Costing Rs 500 million, Mangal Pandey is the most expensive film of 2005.
Special: Showcasing Mangal Pandey
There were sky high hopes from the film, as it is Aamir Khan's big-screen comeback after four years. His last two releases Lagaan and Dil Chahta Hai were huge hits in 2001.
Aamir, being the perfectionist he is, wore his hair long and grew a moustache to look his part. But it seems the effort was in vain.
"The subject of the film was not right to click at the box office," says Vinod Mirani, editor, Box Office. "Traditionally, historical films have not worked. Another problem was that the film could not generate patriotic feelings among viewers."
Earlier, Shah Rukh Khan and Ajay Devgan also tried their hand at patriotic films like Swades (2004) and The Legend Of Bhagat Singh (2002). Both sank at the box office.
Critics felt Mangal Pandey's music and dialogues were poor. Besides, the first half dragged and youngsters could not relate to the 1857 uprising against the Britishers. 
"In cities like Rajkot, Jabalpur and the interiors of Uttar Pradesh, the collection was not more than 40 percent on the day it released. Today's youth are just not interested in such a subject," opined Mirani.
"If the film is made at Rs 50 crore (Rs 500 million), the distributor could lose upto Rs 20 crores (Rs 200 million)," says a trade analyst who does not wish to be named.
However, producer Bobby Bedi claims Mangal Pandey is doing well. He expects sales to go down by 20 percent on weekdays but is hopeful as there is another long weekend coming up, thanks to Raksha Bandhan.
"I have already recovered my cost and now I will rake in some profit as well," Bedi says.. 
Nahta claims the long weekend will not help Mangal Pandey rise. "The drop in collections from Tuesday was huge and there was no way the film will recover the money," he says.