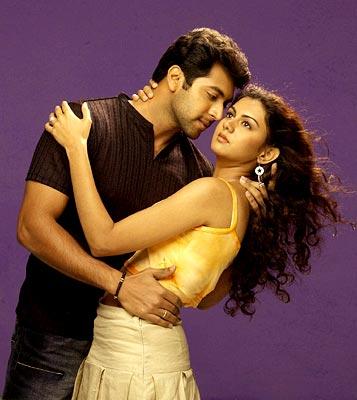 Mention the name Jethmalani and one almost instantly associates it with complex and erudite arguments that the legal fraternity speaks of with much awe even many years later. Ram Jethmalani is, of course, one of the most distinguished lawyers in the land -- perhaps our finest criminal lawyer.
The former Union minister's granddaughter has decided not to take the career route her famous grandpa and uncle Mahesh have taken, and instead wants to make a mark in the movies.
Kamna Jethmalani is acting for Kavithalaya, one of the most respected banners in the Tamil film industry. It is the distinguished director K Balachander's production house.
Kamna will act opposite Jeyam Ravi, one of the hottest Tamil stars, in Idaya Thirudan.
Ravi shares many similarities with Dhanush, the other rising Tamil star.
Both stormed onto the scene at the same time -- Dhanush with Kadal Kondein and Ravi with Jeyam. Both films were directed by the actors' elder brothers -- Selvaraghavan directed Kadal Kondein while Raja directed Jeyam. The producers of both films were their respective fathers.
After the unprecedented success of Kaadal Kondein, Dhanush accepted all kinds of films, and in most, the actor -- who is as thin as the proverbial reed -- was portrayed as a super hero who beats up villains three times his size. Alas, his films flopped.
On the other hand, Ravi preferred to act in select films. His second film, M Kumaran s/o Mahalakshmy, a film that had an unusual and endearing relationship between a son, Kumaran (Ravi) and his mother Mahalakshmy (Nadia Moidu) was a huge hit.
Idaya Thirudan will be his third film. It is produced by Kavithalaya and directed by Saran, who gave the recent hits, Gemini and Vasool Raja MBBS .
The music will be created by Bharadwaj, and the story and dialogues will be penned by Crazy Mohan. Both were part of the Vasool Raja team.
The villain in this romantic comedy is the young heartthrob from Kerala, Prithviraj. Idaya Thirudan will be his second outing in Tamil (K V Anand's Kana Kandein was his first Tamil film). In both films, he played the villain. Prithviraj had a dream debut in Nandanam and was tipped as the actor who would end the rule of the superstars.
What went against him was his decision to disobey the actors body, AMMA (Association of Malayalam Movie Artistes) when it was fighting a battle with the Film Chamber. While other actors boycotted shooting during the period, Prithviraj went ahead and acted in some films. With that, he became the bad boy in the eyes of all the seniors.
This was a big blow to the young man who was forced to act in films when he was on a vacation in Thiruvanathapuram as an engineering student from Australia. His father Sukumaran started off as a villain and then became a hero and huge star.

Text: Shobha Warrier