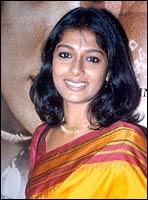 Nandita Das has been invited to be part of the jury at the prestigious 58th Cannes Film festival to be held in France in May.
Her husband Soumya Sen informed that she received an invitation to be a member of the jury about a fortnight ago.
"Nandita, who is in the US currently, is expected to fly down to India on May 3. She will be leaving for Cannes on May 8 or 9," he said.
Nandita, who acted opposite Amitabh Bachchan in Rakesh Mehra's Aks, will serve as member of the jury for feature films. She is the second Indian actress to be invited to act as a jury member. In 2003, Aishwarya Rai was chosen as one of the jury members.
The Cannes festival will be held from May 11 to 22.