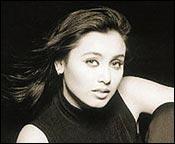 It's not everyday that one dines with Pakistan President Pervez Musharraf. And Rani Mukerji understands that well.
The actress was invited by Prime Minister Manmohan Singh to dinner in honour of Musharraf in New Delhi's Ashoka Hotel on April 16.
The actress spoke to Subhash K Jha about the honour, working with Amitabh, and being a simple Bengali girl at heart. Excerpts:
How was the dinner with President Musharraf?
It was like a dream come true! To just be part of such an event made me feel that I've done something to achieve this. All the biggest dignitaries from both sides of the border were so cultured and down-to-earth.
When I was invited, I was disbelieving and overjoyed. I'm really looking forward to going to Pakistan. Let's see where the invitation comes from. Maybe it will come directly from the Begum (President Musharraf's wife). They actually want me and Latabai (Lata Mangeshkar) to come to Pakistan!
Quite an honour.
I was the only one from the film industry to be at the dinner. I guess Black, and my character in Veer-Zaara, have made a tremendous impact across the border. I felt honoured to be part of the guest list. All the Pakistani delegates were really sweet. They were taking pictures of me.
Our Foreign Minister Mr Natwar Singh introduced me to everybody. He said he's a fan of my Fanta ad! 
| | |
| --- | --- |
| | More on rediff.com ! |
| | |
When he introduced me to his counterpart from across the border, Mr Singh insisted that I be invited to Pakistan. They (The Pakistani dignitaries) said they'd love to have me in their country any time I want. And I'd love to go!
President Musharraf and all the other delegates said I'm very popular in Pakistan. The way they spoke and the kind of people they seem to be, I feel peace is around the corner. I hope the dinner made a difference. Lets join hands at least in sports, cinema and other cultural events.
So are you going?
I'd love to go. President Musharraf and President Kalam both want to see Black. They've been told it's a fabulous film. I must say their advisers have good taste (laughs).
Seriously, the leaders from both sides of the border are so down-to-earth. They make the peace problem seem so solvable. And I really think highly of our prime minister. Manmohan Singhji struck me as a wonderful diplomat and a perfect host. I'd like to invite both our President and prime minister to see Black.
I couldn't help wondering how far my destiny has brought me. I felt so proud to represent the film industry for such an important occasion.
What do you think about getting all the best actress and best supporting actress awards for 2004?
It's again quite an honour! I can understand people who question me getting both the awards. My only defence is that I've worked very hard to get where I am. Nothing came easily to me. And if I was found to be good for two awards, it doesn't mean I should be given just one just to make the awards look more democratic. I don't think I can repeat this feat again.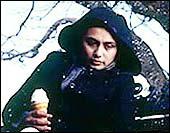 Next year, you'll sweep all the awards for Black.
(Bursts out laughing) Oh, get serious! I won't get both (actress and supporting actress) awards! You know, when I did Yuva, people wondered why I was doing a supporting role. Now, when I get awards for it they're questioning it.
Now you have Bunty Aur Babli coming up...
After Black, Amitji and I go completely mad in this film! But it wasn't intentional. I've never planned anything in my career. It's great to have Bunty Aur Babli after Black. According to the original schedule, Veer-Zaara was to come after Black, followed by The Rising. But now, The Rising will come after Bunty Aur Babli and Paheli.
Bunty Aur Babli was a ball! After Saathiya, I was working again with Yash Raj films and Shaad Ali. The masti that you'll see is one side of me that hasn't come across on screen before. Shaad knows me too well; he could get the madness out of me! Abhishek, Amit uncle and I had a blast! The film is quite mad -- totally different from Black!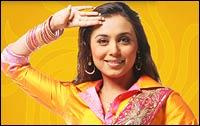 Both the Bachchans can't get enough of praising you...
That's great! I love Amit uncle completely. By chance, most of my new films have him with me. After Veer-Zaara and Black, Amit uncle is with me in Bunty Aur Babli and Paheli.
Then there's Ravi Chopra's Babul coming up. And Karan Johar's next film will also have the two of us. So this whole year I'll be working with Amit uncle. What more can I hope for? When you enjoy working with a co-star, that pleasure shows on screen. I always enjoy working with like-minded people. Like I'm immensely happy working with Shah Rukh (Khan) and Abhishek. Work has become a picnic!
Black
is behind you now?
No, it will always remain a special colour in my life. Black will always be the most significant film in my career. What really gives me happiness is that the film is a hit. Sanjay (Leela Bhansali) and I used to sit and wonder if the film will run. Today, even after so many weeks, it's still going housefull in my hometown Kolkata. Even my family there can't get tickets! Black being a hit is another dream come true! After Hum Tum and Veer-Zaara, it completes a hat-trick of hits!
You're being called the number one actress today.
I don't want to think about that. For me, coming home after work to my down-to-earth family is very important. All I have is temporary. Tomorrow, when it's all gone and I'm married, I need to be that simple Bengali girl, which I am at heart. I can't live in a bubble. At home, I'm very normal. Mom still screams at me. I'm never allowed to behave like a star!
Don't Miss!
Complete coverage: Musharraf in India