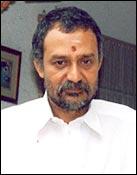 L
ast week saw such biggies like Rajnikanth's
Chandramukhi
, Kamal Haasan's
Mumbai Xpress
and Vijay's
Sachein
hit the marquee.
The movies, starring some of the most popular actors in the Tamil film industry, have been eagerly awaited by the masses.
But perhaps, it was art director Thotta Tharani who was looking forward most to these movies. After all, his work was showcased in two of the films, Chandramukhi and Sachein.
Tharani talks to Shobha Warrier about his experiences.
On
Chandramukhi
| | |
| --- | --- |
| | More on rediff.com! |
| | |
Chandramukhi
was an interesting project because firstly, it is a Rajni film, and secondly, it is produced by Sivaji Films and thirdly, it was directed by Vasu.
I had done the art direction in most of Vasu's films, including Rajni's Mannan. But we haven't done films together for a long time.
Then, Sivaji is like a family banner for me, and many others who have been associated with it for a long time. Even my father worked for Sivaji Productions.
When you do a film for Sivaji Productions, there will no tension. Vasu is very clear about what he wants. He belongs to the old school of filmmaking. Cinematographer Sekhar is also very good. I've known him for a long time.
I always say the director, cinematographer and art director form a triangle. There should be co-ordination between the three for a film's success.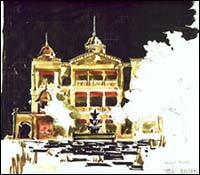 Even though Chandramukhi was a very big film, to be released on a big day (Tamil New Year), there was no tension on the sets. It was like a picnic -- something very rare these days. I still remember enjoying working for Geetanjali long ago. The experience was the same. The rapport between Mani (Ratnam), PC (Sreeram) and me was fabulous. After a long time, I felt the same bonding on the sets of Chandramukhi.
The first thing Vasu told me was the story of the film, and he talks so fast. Then, I watched the Kannada version (Aaptamitra).
We erected a set at Hyderabad. The Malayalam film was shot in a real palace in Kochi. That is possible there because Malayalam films follow the realistic school of filmmaking. But Vasu didn't want the realistic look. I could make my set as realistic as possible like in Dalapathi, Bombay or Raja Paarvai. But here, they needed more colour. It is not a monochrome kind of film. In Malayalam, everything happens in the same house, and filmmakers stick to that house but here, you have to show grandeur.
What was interesting for me was creating the locked room in which the young lady ventures into. I wanted to do something different from what was shown in Malayalam and Kannada.
So I made it a period room. I put in a lot of gold and Sekhar lit it up very well. I made a corridor, which you do not see in other versions. It is more like the corridors you see in Kerala palaces.
The room had not been opened for many years, so I thought we needed a corridor to link that room to the present. When the filmmakers came onto the sets, they were stunned to see the corridor. So, I added certain things to satisfy the creative person in me.
In the old school of art direction, which I learnt from my father and the seniors, an art director should do costume design first, then the set design and lastly, interior decoration. But today, there is always a costume designer at hand.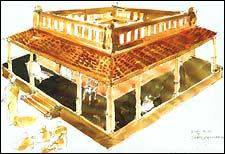 In Chandramukhi, I only designed the special costumes. In Jeans, for a song that had Rajasthani type of costumes, I did the basic sketches. Then, Manish Malhotra came from Mumbai and made the dresses for Aishwarya Rai. These days, only if people ask me, I do the costume designing. Otherwise, I concentrate only on art direction.
I can honestly say that in the 40 years of my career, Chandramukhi is one of the best films. I am talking about my experience with a production team. Everybody says the film has come out well. I just hope that it does well commercially. If a film does well, it is good for all those associated with the film, and the industry as a whole.
On
Sachein
Sachein
is totally different from
Chandramukhi
. If
Chandramukhi
is colourful and racy,
Sachein
is realistic. It belonged to (
director
) John Mahendran's father Mahendran's school of films.
John was very clear about what he wanted for the film. I have known him since he was a boy. He was with me while we shot films like Bombay. At that time itself I felt he had the potential to be a director. But he had to struggle for a long time. In the end, thanks to Thanu, the producer, he got a good project.
As I had two releases on April 14, and I was needed more for Chandramukhi, John did not bother me unless he badly needed my opinion. Otherwise, my assistants took care of what I had designed for Sachein.
I felt Jeeva (cinematographer) did a fabulous job of lighting up the Ooty (Uthagamandalam) set. We had put up a set in the Campa Cola grounds in Chennai, which was supposed to be the central part of Ooty. When you watch the film, you will not believe that it was not shot in Ooty. The set had the same feel and temperature as that of Ooty.
Sachein
reminded me of an earlier film I did for Mani (
Ratnam
) called
Mouna Raagam
. It was a young, realistic film.
Sachein
followed the same school of filmmaking. Of course, it includes commercial songs.
I had to design a set with a lot of greenery, water, rocks, etc for a song sequence that had Vijay and Bipasha Basu. After Jeeva lit up the scene, it looked fabulous. Art direction is just not erecting a set; it will be complete only when the cinematographer uses it beautifully. As the movie was mainly shot outdoors, I had to create only a few sets in Chennai.
Sachein will be a totally different film for Vijay as it belongs to the realistic school of filmmaking.
In my 40th year of working in the industry, first of course as assistant to my father, I have done all kinds of films. My attitude has been, even if the film is commercial, that I should do my job realistically. My belief is that any set you erect should have life in it.
Photograph of Thotta Tharani: Sreeram Selvaraj