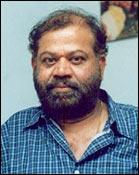 In the first part of P Vasu's interview, the veteran director spoke about his new film, Chandramukhi starring Tamil superstar Rajnikanth.
In the second and concluding part, he talks about the two most talked about films in Tamil Nadu these days, besides of course, Chandramukhi. They are Aaptamitra and Manichitrathazhu.
Over to the director:
'Rajni's nervous about his looks!'
Your Kannada film Aaptamitra is based on Fazil's Manichitrathazhu. What exactly did you like about Manichitrathazhu?
| | |
| --- | --- |
| | More on rediff.com! |
| | |
Manichitrathazhu, I would say, is a classic in a commercial format. It is an epic. You can watch it even after 100 years. I liked it because it's so different from the films I have seen. There was a kind of timeless quality to the film.
When I saw Mohanlal entering the film after 6,500 feet (of film), I was shocked! 100 feet after his entry was the intermission! You can never imagine such a situation in any language other than Malayalam, in India. It is possible there because the audience in Kerala is different.
If an artist like Rajnikanth does a film like Manichitrathazhu, it will be a failure. So, what I thought was, I should make a film without losing the essence of Manichitrathazhu. With that in mind, I created my own story.
So, in Chandramukhi, Rajniknath enters in the beginning itself?
Yes, Rajni enters in the first reel itself. But I have retained the essence and the best scenes of Manichitrathazhu in Chandramukhi in a different style.
What about Aaptamitra?
70 percent of Aaptamitra is like Manichitrathazhu, and I really appreciate Vishnuvardhan for accepting the subject. It is a very tough subject for a hero to act in because it is a heroine oriented film. But any hero will jump to do the role in Chandramukhi.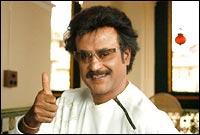 When you made Aaptamitra, did you expect it to be such a huge hit?
I told the producer and Vishnuvardhan, 'If you like the script, we will do it.' I assured them that the film would be a hit because such a storyline has not been seen in Kannada at all. And Vishnuvardhan has not done such a role before. I have directed him in more than eight films, and he used to tell me the story of all his films. More than a hero, he is a friend to me.
I kept the story of the film a secret from the actors. Nobody understood what the story of the film was. I just asked them to do what I told them. I felt if they knew the story, they might give that expression on their face. So, nobody knew how the story ended.
I was very confident that it would run for 100 days. And I was also sure that it would not let Manichitrathazhu down.
I am surprised to hear that Aaptamitra has crossed the record set by Sholay in Santosh (theatre). I am proud that a Kannada film has now the record for the highest collections in the history of cinema in Karnataka.
The heroine is the strength of Manichitrathazhu. We saw an extremely talented artist like Shobhana in it, and you had another talented actress Soundarya in Aaptamitra. Were you in a dilemma because you had to have an actress of that calibre in Tamil too, and there are not many such actresses in Tamil now?
You cannot compare the role of Shobhana with that of Soundarya. I created her in a different way. Shobhana is such a wonderful artist and dancer that you cannot find anyone who is a match for her now. I cannot expect that kind of a performance from somebody else. So I made the character different. I made Soundarya a curious young lady. Even as a child, she performs as the character whenever she listens to a story. She becomes the character, and acts before other children.
I made the character in Chandramukhi a naughty one. She is not like Soundarya in Aaptamitra or Shobhana in Manichitrathazhu.
I have also changed the climax in both my films. There was no heroism in Manichitrathazhu but there will be heroism in Chandramukhi.
Similarly, Manichitrathazhu did not have any song situations; it had only a story. That will not work in other languages. So I had song situations in Kananda and Tamil but the song situations in Tamil are different from Kannada. I make films according to the taste of the audience.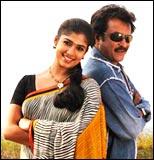 Mohanlal did not have a heroine in Manichitrathazhu but you have Nayanthara as Rajni's heroine in Chandramukhi...
I had Rajni's dates with me. He does only one film at a time. An actress like Jyothika would be doing three films at a time, Vadivel would be doing 30 films, Nasser 15, and Prabhu, five.. All were busy. So, we took dates from all of them for 90 days. Jyothika might give me 40 days, Prabhu may give 50 days. Vadivel may give 20 days. I planned these days and thought of a heroine. So, I felt if you went for a very busy artist as Rajni's heroine, it would be very difficult. So, we thought we would go for a new face.
My wife saw the Malayalam film Manassinakkare, which had Jayaraam, Nayanthara and Sheela, who was making a comeback after so many years. She told me Nayanthara was very good. Then, I learnt that she was doing Aaya with Sarath Kumar in Tamil.
The next day, I saw a picture of Nayanthara and Sarath in Dina Thanthi newspaper. I found her very appealing. I wanted to tell Rajni immediately. What happened was, he called me and asked, 'Did you see the picture of a girl in today's Dina Thanthi?  She looks very good.' That was perfect timing, I would say.
Ram Kumar also liked her. So we zeroed in on Nayanthara.
Finally, when the shooting got over, was it a relief for you?
I enjoyed shooting Chandramukhi so much that I would not say it was a relief when the shooting got over. It was like a family that we worked. Everyone was happy when the shooting was going on and when it got over, we felt we are not going to see (each other) again!
Photograph of P Vasu: Sreeram Selvaraj