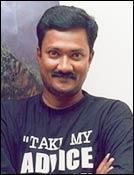 S
achin is
John Mahendran
's first film. He has a legacy to live up to, the legacy of his legendary father, Mahendran whose film
Uthiripookal
is considered to be one of the classics in Tamil.
The movie does not belong to the Uthiripookal school of filmmaking but it does not belong to the typical commercial structure either. Sachin, starring Vijay, Bipasha Basu and Genelia D'Souza, is one of the big films that will compete with other biggies like Chandramukhi and Mumbai Xpress, which release on the same day.
In this interview, John tells Shobha Warrier about his first film, what people expect from the son of Mahendran and his dream project.
Having grown up watching your father Mahendran's films, you also wanted to become a filmmaker?
Definitely. Right from my childhood days, I had a great interest in Malayalam films. I have watched more Malayalam films, I would say, than a Malayali. I liked the subjects they dealt with and the kind of screenplays they came up with. I wondered why we didn't have such films in Tamil. There were very few realistic films in Tamil. I have always wanted to make a Malayalam film in Tamil.
Is Sachin the kind of film that you wanted to make?
Sachin is like a balance. I can assure you that Sachin will disturb you till you reach home because today, people watch films with so much of distraction even inside a theatre. To some extent, Sachin is a realistic film. But since I am handling a big star, I need to strike a balance. I want to make a film that would satisfy me, and the expectations of Vijay's fans. At the end of the day, Sachin was a satisfying experience.
What is the kind of film you really want to make to satisfy the creative filmmaker in you?
I don't want to make a filmi film; that is something that is clipped from real life. I want people to identify with my characters and situations.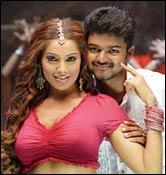 Was it because of this that you had to wait so long?
People believe that it would be easy for me to be a filmmaker because I am Mahendran's son. It is the case with all star sons too. If there are pluses, there are equal number of minuses too. Being somebody's son would give you an entry into the producer's office, but that's all. After that, it is for you to prove your worth.
I feel the struggle is double because people also expect something more from you than a newcomer. So, it was a struggle for me to get my first film, and then to overcome the expectations because people expect a classy film from me, like the kind of films my father made. I tell everyone, this is not a Mahendran film; it's a John film.
Now, I have to first prove to people what kind of filmmaker I am, and only after that can I make a film that I want to make.
| | |
| --- | --- |
| | More on rediff.com! |
| | |
How did Sachin happen?
Apart from talent, I think you have to be at the right place at the right time. Vijay wanted to break away from the action films he was doing, and do a softer film. That was the time I had told Kalaipuli Thanu Sir (the producer) about my script, and he had Vijay's dates with him. Vijay listened to the script and thought Sachin would be the kind of film that would fulfil his need.
If Kalapuli Thanu did not have Vijay's dates, would you have taken somebody else?
Somehow, from day one, I felt only Vijay could do this particular character. You might have noticed, even though he is a big star, he has childlike expressions in his films.
Sachin is one character who takes everything with a smile. He is a person who is not worried about today or tomorrow. And Vijay has the same attitude and expression in his films.
Why did you decide to have Bipasha Basu in the film? For glamour?
Basically, Sachin is a soft love story where I wanted an exciting element in the film. Then, we thought of Bipasha Basu. Expectations from the audience would then be high. Finally, she has become a very important character in the film. She is not there for an item number. She has a strong role in the film.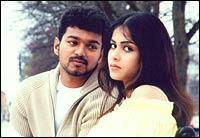 Genelia has not acted in any Tamil film after

Boys. What made you think of her for Sachin?
We wanted somebody fresh opposite Vijay. Then, somebody came up with Genelia's name. And, in this film, she is equal to Vijay as far the length and importance of the role is concerned. She is not a glamour girl in the film. She has done a wonderful job, especially the climax scene. Her performance is on par with Vijay's. Both look so fresh and good, and I am sure the audience will feel the same.
What is

Sachin about?
Sachin is an unconventional guy who wants to look at life in an unconventional way. He has his own convictions about life which many cannot understand first but at the end of the day, he starts influencing people. So, the film is basically about the character. After watching the film, any youngster might feel that he should also look at life the same way. He is very honest and trustworthy.
Why have a title like

Sachin? Cashing in on Sachin Tendulkar's popularity?
I wanted to condition the audience about the kind of film Sachin is from its title itself. I don't want the audience to think that it is another Gilli or Thirupachi. I wanted to prepare them that they were going to watch a sweet love story. Sachin is one of the most popular names in India now. Today, so many parents name their children Sachin.
After Gilli, Vijay has a great fan following among kids. Whenever we shot outside, kids came to meet him not even knowing his name. They called him appadi podu uncle (after a song from Gilli).
Are you nervous because your debut film will be released along with Rajnikanth's and Kamal Haasan's films?
This is the same question I encountered wherever I went but none of us felt any tension.
Here, once again, I have to talk about Sachin's character. He lives life for that particular moment; he is not bothered about yesterday or tomorrow. The entire team of Sachin had the same kind of feeling. I would say the character influenced all of us.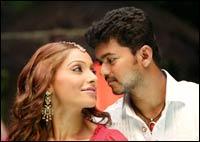 Have you shown the film to your father?
No, not yet. I feel shy to show him my film. We discuss French and Iranian films but till today, I haven't discussed my script or film with him. I am sure, as a father, he will be happy. Maybe as a director, he may not be happy
When will you make the film that you really believe in?
I want to make films like Nenjathay Killathe, the moment producers start feeling confident about me as a director. Now, I need stars like Vijay or Vikram for my film. Once I prove my potential, I will come up with a film I dream of, and have always wanted to make. My biggest dream is to make such a film with a great performer like Mohanlal in Malayalam.
Photograph of John Mahendran: Sreeram Selvaraj