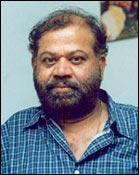 Veteran director P Vasu claims releasing a film is like delivering a baby. And so, he's waiting to become a father yet again.
But this baby is special. After all, Chandramukhi stars Tamil superstar Rajnikanth.
In a rare interview, Vasu talks to Shobha Warrier about Rajnikanth and Chandramukhi, which releases on April 14.
You have directed Rajnikanth earlier too. As you have to satisfy millions of his fans, was directing him a tense experience?
I had directed him in three films -- Panakkaran, Mannan, and Uzhaipali. This is my fourth film with Rajni.
Yes, a director will be under tension. But you do not feel tense when you are working with Rajni because he is a very sweet person. I went to the sets only when I was totally satisfied with the script. Both of us discussed every scene before we started shooting the film. The director's job is like a teacher's, and I feel a teacher should not have any doubts about the subject.
Is Rajni a director's actor?
He is a very good director's actor. That's why he sticks to selected directors. He prefers working with directors who know him very well, and on whom he has enough confidence.
| | |
| --- | --- |
| | More on rediff.com ! |
| | |
Was there any difference between directing him now and in your last film with him?
My last film with Rajni was eight years ago. In these years, he has not changed at all but the surroundings have changed, the way people look at him has changed. But he is still the same simple man.
I felt I was shooting a small film but when amidst people, I got the feeling that what I was doing was something big, very big. The way media writes about the film, the way people talk about the film -- everything is so big. People ask me, how's thalaivar's (the leader's) film shaping up?
He was not a thalaivar eight years ago?
No, he was only Rajnikanth then. If people enjoyed his films then, they love him now.
Does Rajnikanth interfere with the script?
It depends on the way you, as a director, convince the hero.
Does he listen to you?
Yes. He is not a person who believes in imposing his ideas on you. If I say it is wrong, he accepts my opinion.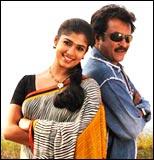 Directors seem to be in awe of Rajnikanth, and listen to whatever he says. It seems Baba flopped because of that. Do you go according to your convictions?
Definitely. If the screenplay is good, the film will be good. The success of a film depends on the screenplay, and nothing else.
I also feel that it is our responsibility as directors to make a hit film with Rajnikanth. He has everything in him; we only have to give him a good story. We should also know what his fans want from him -- like his style, the way he walks, his actions, etc. When I am writing a story for him, I write it as a fan, and when I go to the sets, I will be the director, and not his fan.
You talked about his style and mannerisms. As a director, don't you feel he has fallen into a trap of his own mannerisms?
Every actor has a style, be it MGR, Sivaji (Ganesan) Sir, Rajni or Kamal (Haasan). There is a successful formula for every actor.
At the same time, I also know that a film will not be successful if you satisfy only the fans of a particular actor. Fans will be there only for three-four weeks. After that, it is the common people who come to watch the film, and they will come only if the story is different and good. I don't believe that the hero has to be there in all the 60 scenes. In most of my stories, I give a lot of importance to heroines. My heroines are not just glamour dolls. In Chandramukhi also, you will see two very good characters.
Rajnikanth's character is quite young in the film and he also looks young, quite different from how he looks in real life. Did you have any apprehensions about making him look young?
When I saw him in Bangalore, I was very confident that I could make him look young. He was doing a lot of exercises those days, so he looked quite trim. His face was glowing because he was taking adequate rest. He was mentally at peace. He looked very happy. If a person is happy, that shows on his face.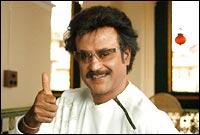 He is one person who reduces weight if you tell him to. If he feels he has developed a paunch, he will work out one or two hours daily. He will do anything if his mind is free. I told him if he had a wig, he would look young.
Unlike many artists who do not like to show to the outside world how they look once they grow old, Rajnikanth has no qualms about showing his baldness or grey hair. Why is Rajnikanth, a man who has so many followers not bothered about his looks?
He is the only person who says, 'Let people like me the way I am. If they do not like me, let them ask me to go away. I can't change myself; this is the real me, and I do not like to hide the real me. I don't want to act before people. I will act only before the camera.'
He is a very, very straightforward man. That is why people like him. They like his honesty. More than an actor, they like him as a human being.
He was facing the camera after a long gap of three years. Was he tense?
He was scared, and nervous. He told me, 'I feel as if I am acting in my first film. It will take two days for me to settle down.'
The fact is, acting is like riding a bicycle. You can never forget it. He was, I think, not nervous about acting; he was nervous about how he would look in front of all those youngsters. He didn't want to look bad in front of them. It took a couple of days for him to gain that confidence.
P Vasu's photograph: Sreeram Selvaraj