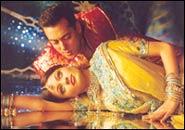 Toss aside the bewildering (no time for love) tagline, and Lucky is ready to roll. In fashion atypical to Bollywood, the film's title doesn't refer to its leading man. Or to its theme. And despite what obvious filmi traditions would have you believe, Lucky isn't even the name of our man Sallu's pet alsatian.
The truth is a lot more palatable as the schoolgirl shuffling awkwardly tells Salman Khan her painfully ironic name. "Lucky Negi," she whimpers, causing Mr Bicep to burst out laughing. After all, the lass has wrecked his life (not to mention his treasured Volkswagen Cabriolet) within minutes of meeting him, and the two are currently in the middle of disaster.
Still, he, and the rest of us, can't help begrudgingly throw Lucky a smile. Sneha Ullal's first shot on screen is guaranteed to bring forth a gasp. The resemblance to Aishwarya Rai is uncanny, and it's customary to require sharp intakes of breath.
Yet proportion must not be forgotten. Aishwarya is one of the most beautiful women in the country, while Sneha is, well, a very pretty schoolgirl. Playing what must essentially be herself, Ullal's done well for her first film.
| | |
| --- | --- |
| | More on rediff.com! |
| | |
Here is broken another Bollywood convention -- someone is actually playing their age! Shudder-provoking memories hark back to Manoj Kumar in khaki shorts, his attempt at playing a young high school student.
But this film is an almost unthinkable respite -- a 17 year old is cast exactly apropos. The result is that she seems almost too young, too childlike, too untouched. Which also ensures her coming across as too believable. And, most importantly, immensely hard to not like.
The Negi clan has just moved to Russia, and elder daughter Lucky is desperate to fit in. She is a shy little Indian girl, but harbours dreams of appropriately teenage naughtiness, and manages the obligatory dance sequence with her checked-skirt classmates.
One morning, after cramming hard for a test, she's all out of academic hope and praying something stops the examination. The Russian rapist leering big bad wolf-style in the woods when her bicycle has a flat tire, however, is not exactly what she was hoping for.
Therefore, she yelps, resists, slams bad guy in face with tiffin ka dabba and flees right to safety -- or the backseat of Aditya's (Salman) car, as you and I would call it. The Khan arrives, biffs baddie, and discovers, after a mild-mannered misunderstanding with border police, that he now has an extra responsibility.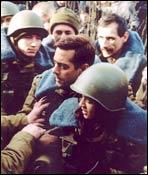 Before he has time to react, gunfire and explosions punctuate the conversation, and young Aditya, son of the ambassador, realises he and his annoyingly coy co-passenger are in the middle of that most undesirable of situations, good only for out of work poets and composers big on violins: a Russian revolution.
It's been a while since we've seen Salman Khan relax in a role, but this is him acting with vintage -- the word is appropriate as he's too old for the part -- ease. He's affable and chilled as he laughs indulgently at his kid passenger, and his jokes aren't barbed -- they're petulantly mean and self-assured. The character is a winner, and Salman, fully clothed throughout this snowy celluloid romp, is positively charming.
Ash Lite is the one facing all the pressure, though, and she does quite all right, considering she's a teenager working in her first film, and has been handicapped by severely trite and saccharine dialogues. Mush is easy to flub and look bad in, and, while we won't earmark her for the next Shyam Benegal thing, it's important to appreciate she doesn't come across as annoying.
Which, in keeping with all the hype, leads us to believe in the child's potential and declare she's, well, even better than the real thing.
The second half of the film is, for the most part, a letdown, as our tragically trapped couple plod through all the predictable Hindi film pitfalls, with the script suddenly dragging, scarred by great dollops of melodrama.
Thankfully, Salman's constant irreverence is evident, and the film escapes being a total write-off. Setting it in the spectacular Russian landscape helps a lot.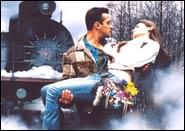 Speaking of firsts, this also might be the only Mithun Chakraborty film in perhaps the last decade to actually merit the tag 'watchable.' The veteran star has suddenly been appearing a lot on the mainstream landscape (far removed from his B-film badshahdom), but he's enjoyable here, playing an eccentric 'great' detective and master of disguises.
Lucky is a rare film for Indian cinema. It's a teenage chick-flick, similar to the films churned out with great regularity by Disney -- wistfully dreaming fairytale princesses, breathtaking backdrops, a studly hero with unflinching ideals, simplistic characters, an inescapable feeling of sincerity despite cliché, a plot unencumbered by logic, and that romantic ideal so constantly exploited by yon studio with the rodent ears: a willing suspension of disbelief.
It's easy to laugh, easy to point fingers, and easy to deride Lucky -- you just might not want to.