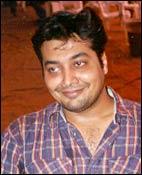 Controversy seems to be Anurag Kashyap's middlename. His sex, drugs and rock 'n' roll cocktail of a directorial debut, Paanch, never made it to the marquee. His next movie, Black Friday, almost made it -- it even had a release date -- but was soon bogged down with a stay order from the Bombay High Court.
The petitioners against the film alleged the movie passes a judgement on the accused in the 1993 Mumbai bomb blasts; the court upheld their argument.
Kashyap is heartbroken, but as unapologetic as his films. Over a cup of tea at his home, the filmmaker -- who has scripted films like Satya and Kaun, and written dialogues for Shool, Yuva and the forthcoming Main Aisa Hi Hoon -- talks to Patcy N about Black Friday, Paanch, star tantrums and other facts of life.
On the movie
Black Friday is about the 1993 Mumbai blasts, and is based on a book by S Hussein Zaidi. It starts three days before the blast, and then shows the police investigation. The film is about the investigation, how the police cracked the case and the conspiracy behind it [the blasts].
Yes, the theme is controversial but I didn't intend to be controversial. I make films that excite me.
| | |
| --- | --- |
| | More on rediff.com! |
| | |
Mid-Day
had approached me through Arindam Mitra, who is the producer of the film. He wanted to make a television serial on it [
the book
], and asked me whether I would write it. When I read the book, I was very moved. It brought old memories of articles that I read in 1993. I was not in Mumbai when the blasts took place. I arrived here in June 1993.
I suggested we make a film, instead of a serial. We discussed ideas and finally he gave me the idea for the final structure. I started writing the script, but got stuck. My team of Aparna Chaturvedi, Dr Tushar and Debashish Makhija did a year and a half of research and that's how the whole process started.
We looked up photographs and documentaries. More than just destroyed buildings, I wanted to see personal losses, the pain, and show that to the audience. We also interviewed blast victims, and people who still work outside [the Bombay] Stock Exchange and passport offices [where the blasts occurred].
Kay Kay Menon plays Additional Commissioner of Police Rakesh Maria, who had put the case together and who handed over the case to former Mumbai police commissioner Amarjit Singh Samra, the man who solved the case with due help from other police departments.
We followed his point of view, which led us to Badshah Khan, who plays a very important role. Aditya Srivastav, who was also in Paanch, plays him. Pawan Malhotra plays Tiger Memon and Vijay Maurya, who was also in Paanch, plays Dawood Ibrahim.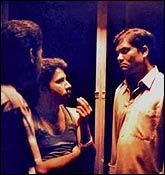 The film was completed in May 2004. We took it to film festivals in Locarno, Bhutan, New York, MAMI [in Mumbai]...
We wanted to break new ground and see how people reacted to the film. We were surprised with MAMI. There were 1,400 people sitting in a hall with a 900-seat capacity! We got a standing ovation there.
Everybody anticipates controversies with this film and feels we would have got phone calls from the underworld or faced political pressure, but I experienced none of that.
While making this film, the idea was to achieve objectivity, not point fingers. It is time to explore how and why things happened.
My contribution to the film is the screenplay. Everything is based on facts. I have not created anything. What I have done is taken a mammoth case and eliminated things to keep it linear. The film explores viewpoints from Rakesh Maria to Badshah Khan.
We are making a television series of Black Friday, which includes Sanjay Dutt's story. We are not trying to explore whether somebody is guilty or not. I just want to shoot Dutt's arrest. His will be shown as one of the many arrests that took place.
In the film, we don't have the Sanjay Dutt part at all. He got a lot of coverage because he's a famous actor but he was not a key element in the case. He is the sensational part of the story, which we don't want to use.
But we might ask him to do a cameo in the serial. He must be having his own stand in the case.
On Ram Gopal Varma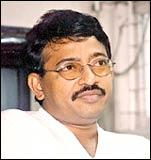 It's difficult working with Ram Gopal Varma. I have an on-off relationship with him. Both of us speak out what we think, but if I say something that he doesn't like, he can't take it.
But he's a big man; I am not even two percent of what he is. Ram Gopal Varma doesn't need an Anurag Kashyap but Anurag Kashyap needs a Ram Gopal Varma.
Our ways of functioning are very different. As a boss, he's very dominating. But he is supportive of the kind of work that I am doing.
Satya
was an important part of my life. It was incredible. I don't see that kind of passion anymore. I got addicted to that!
On Paanch
There is hope that Paanch will release. Sahara have bought the film and are advertising it in newspapers. I've been told it will release in two or three months.
Paanch
will not get outdated. But by now, people must have seen the elements in other movies. I have seen it in
Murder
and
Jism.
But
Paanch
has its own unique quality.
On himself
I wanted to be a scientist, so I did zoology honours in Delhi. I did drugs, and got involved with a [Delhi street] theatre group called Jana Natya Manch in 1993. I did theatre with them.
I packed my bags and came to Mumbai when I was 20. Then, I knew only one place in Mumbai -- Prithvi theatre.
After staying in a good hotel for two days, I ran out of money. So I spent about eight months staying in lofts, on the streets, under a water tank and in the St Xavier's [college] boys hostel.
I started working at Prithvi. My first drama was with Mahendra Joshi but it never got completed because he passed away.
Next, I joined Makarand Deshpande's group Samrangan. But I could not face life. I wanted to act but I couldn't act with all that frustration. I wrote an eight-page drama called Mein, which went to college festivals and did well. That's when people told me I should start writing.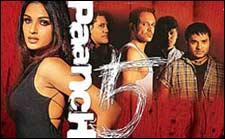 I met Govind Nihalani and he gave me some books to adapt as plays for television. Those books confused me so much that I started thinking that I didn't know anything! I went into hibernation for a year and a half, and kept reading.
Then I met Shivam Nair and wrote a short television serial called Auto Narayan and dialogues for Trikaal. Manoj Bajpai showed my serial Auto Narayan to Ram Gopal Varma and he liked it. So I got Satya.
I was very frustrated and angry because Paanch did not release. Even now, I get depressed thinking about it. But my daughter has calmed me. I don't get angry anymore. I watch a lot of films at home. I don't go for parties and functions.
I still do plays with Makarand like Sir Sir Sarla.
Lately, I have been sitting at home and writing a lot of scripts. I want to work with people who are comfortable, who trust and understand me, and who don't judge me.
On his other projects
AK (Alvin Kaalicharan)
is on backburner. I think Anil Kapoor (
the hero
) didn't trust me. The same look was used in
Musafir.

AK
has become stale, at least with Anil Kapoor. He doesn't think that I can make him look glamorous. I am too 'real' and real means boring to film stars.
I will work with anyone who comes to my sets as an actor and not a star. They should leave their baggage behind if they want to work with me.
People in the industry say that I'm very arrogant and that I will not survive in the industry as I am a art filmmaker. But I'm very straightforward. I say what I feel and a lot of people find it offensive. I have a small but great team. I am happy working with this group.
Gulal
and
AK
are my dream projects. I have three or four big-budget scripts which I want to make some day.
I have always wanted to work with Madhuri (Dixit) but she quit [the industry]; with Dilip Kumar but he doesn't act any more; and with Amitabh Bachchan but I think he doesn't like me. Also, there is Naseeruddin Shah. I have approached him twice but he turned me down.