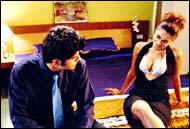 A
couple of years ago, on April 1, a friend called and asked to meet me outside a local theatre for a movie. I waited and waited before it struck me… I had been fooled, and how!
Today, I went to watch Vicky G's Laila -- A Mystery.
On hindsight, I think I would have been better off standing outside the theatre wearing the Fool's Cap than having to watch this miserable movie.
The entire story can be summed up in a few lines. One only wishes the movie had been just as short.
Two girls (Payal Rohatgi and Chesz Shetty) work for a 'Mata' (an evil woman in the garb of a sanyasin). They con men whom they lovingly call bakras. They catch them on camera in compromising positions and then blackmail them for money.
| | |
| --- | --- |
| | More on rediff.com! |
| | |
Somewhere in the middle of the saga, a Casanova and a policeman fall in love with the girls. A couple of murders, many more kisses and fight scenes later, the torture finally ends.
As far as the actors in the movie are concerned, I have seen people chopping vegetables come up with more expressions than they did! Apart from dropping her clothes every 3.2 seconds and arching her eyebrows, Payal Rohtagi does nothing. Ditto Chesz Shetty.
Let's not even talk about the actors, Farid Amiri and Rohit Chopra… or the jarring music… or the pathetic editing…
In fact, the movie is really not worth writing about.