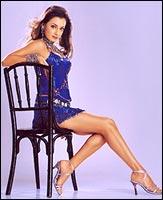 W
hat can one expect from a movie that begins with a guy randomly spotting a girl on the road for the first time and smooching her just because he felt like it?
And then, when the crowd gives him the deserved beating, her heart melts…
Daksh (Emraan Hashmi) and Jia (Dia Mirza) are rich and poor respectively.
Being the poor one, Jia is obviously a bar dancer. (In Bollywood nowadays, if you're poor, you have no other professional choice).
But to be the heroine of a movie, you have to be a bar dancer for more than just the thrill of wearing skimpy clothes and gyrating to item numbers -- you have to be the all-sacrificing devoted sister of a mentally retarded brother.
Anyway, the story drags for a good three hours as Daksh wants it all -- his dad's wealth, his constant supply of alcohol, and Jia's love. How his butler, Uncle John, helps him to keep at least one of the above three, is what the rest of the story is about.
Emraan Hashmi (of Murder fame) is drunk for all three hours of the movie, so it might be unfair to comment on any acting skills he might have been required to have.
| | |
| --- | --- |
| | More on rediff.com! |
| | |
Dia Mirza has shed her clothes and inhibitions.
Anupam Kher, in the role of the golden-hearted butler, has a totally wasted role. Why, why does an actor of his talent even do such a movie?
There are countless songs and comedy for the frontbenchers (the rich grandmom's vocabulary would shame Lalu Prasad Yadav's entire clan). The roads and waterways frequently begin in Dubai and end in aamchi Mumbai. Director Anurag Bose, having nothing new to tell, is content with the camera trailing the drunken hero as he smashes his way through the movie.
My suggestion is, if you have three hours to spare, rent a DVD of Sharaabi and watch the inimitable Amitabh Bachchan battle his heartless father, his alcohol and his riches for the woman he loves. That one was worth it. This one isn't.
CREDITS
Cast: Emraan Hashmi, Dia Mirza, Anupam Kher
Director: Anurag Bose
Producers: SaReGaMa Films, Mukesh Bhatt
Music: Nadeem-Shravan