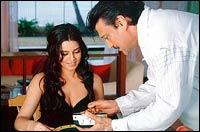 When asked why did Shashi Ranjan choose such an unusual story for his directorial debut, he had said in an interview that he did not want to make the usual run-of-the-mill formula films. He preferred a unique one.
I think Ranjan succeeded directing a unique film because very few can convert a marital thriller into a marital comedy!
Dobara
is about a happily married couple, Anjali (Mahima Chaudhry) and Ranbir Saigal (Jackie Shroff). One day, Ranbir receives an unexpected call from a mental asylum, that Ria Deshmukh (Raveena Tandon) has escaped.
| | |
| --- | --- |
| | More on rediff.com! |
| | |
Ria, by the way, is Ranbir's first love but he had to leave her because she was a schizophrenic (what is with this medical condition? Bipasha suffered the same in
Madhoshi
, which also released today). Due to this, Ria becomes violent and at times, even hurts herself.
After her escape, Ria meets Ranbir and convinces him to accompany her to meet their 13-year-old son on his birthday.
Anjali finds it difficult to digest it, and follows them to Goa. On the flight, she meets Rana (Pakistani superstar Muammar Rana).
The story unfolds enroute to Goa.
Ranjan indeed got a different story for his first film, a mature story of a married couple, and how their past could ruin their future.
The director got actors like Jackie, Raveena, Mahima, Seema Biswas and Gulshan Grover and Muammar Rana. He had Anu Malik's music (his music seems to be selling these days!) and lyrics by the very talented Javed Akhtar.
And what did he go and do?
He wasted a beautiful opportunity.
The script had too many holes in it.
To begin with, the film was tagged a 'thriller,' and you wait throughout the film for something to happen. But the story just drags on and on.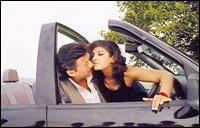 Ria and Ranbir leave for Goa in a rush, without extra clothes and luggage. But both of them are shown in different clothes in the film, with matching chappals for Raveena!
And where does Raveena get a gun from? Do mental asylums allow their patients to posses a gun?
Anjali, a psychiatrist, knew about Ranbir's relationship with Ria from the beginning. So why did she get angry with them, knowing Ria's mental condition? Okay, so she is a woman and cannot share her husband. Why, then, does she accept Ria later?
Then, Ria, who behaves like a mad woman, suddenly becomes alright when she learns that Ranbir's only child with Anjali died of blood cancer.
When you talk about a married couple triangle story, you think of films like Arth, Silsila, even Pyar Tune Kya Kiya. But what did Ranjan make?
We have seen Raveena perform well in Daman, Satta and Aks. She seems to be a director's actor. But when she acts mad in Dobara, she had the audience in splits. I would fault the director. the same applies to Jackie, who has given some great performances in films like Ram Lakhan, Kash and Parinda.
Because it is a two-heroine film, the makers have to show Raveena in one song and Mahima in the next. By the middle of the movie, you know exactly when another song will pop out!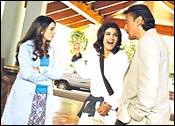 Actors like Seema Biswas and Gulshan Grover are wasted. Grover is shown in only one frame, while Biswas is shown in two or three.
Muammar performs gracefully, but his role is very tiny, and totally unnecessary.
Only two songs out of five -- Tum abhi the yahi and Mujh se kyon roothe ho -- are good.
Dobara has an overdose of Kamal Haasan's Ek Duje Ke Liye. Does the director want to pay the tribute to the film or does he want us to know that it is his favourite movie? Sorry, boss, then let me tell you have not learnt anything from your favourite film!
CREDITS

Cast
: Jackie Shroff, Raveena Tandon, Mahima Chaudhry, Muammar Rana, Seema Biswas and Gulshan Grover
Director, producer: Shashi Ranjan
Music
: Anu Malik, Jasbir Jassi
Lyrics
: Javed Akhtar, Jasbir Jassi