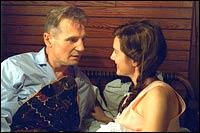 S
ex does not always sell.
Among the films that were greeted with huge walkouts and hissing at the Toronto International Film Festival were A Hole In My Head from Sweden and Anatomy of Hell from France that were filled with explicit sex.
The films had drawn full houses -- with over 300 people -- despite the media warning against their explicit, gory and tasteless scenes. And yet the curiosity had prevailed, lasting into some 30 minutes before the walkouts started.

The festival authorities made no apology for the films.

Talking of the two films and also Austria's Antares and Britain's Nine Songs -- which some critics described as the first porno-concert film -- the festival's co-director Noah Cowan told a reporter: "It's no coincidence that most of these films are coming from Europe. There's such courage in Europe. Many of these filmmakers are saying, 'Let's talk about sex with all its humour, silliness and passion.'"


| | |
| --- | --- |
| | rediff.com's Arthur J Pais is at Toronto. Don't miss his dispatches! |
| | |
But many viewers did not take appreciate his thinking -- at least after seeing the gory stuff.
On the other hand,
Moolaade
, a tastefully constructed film about female circumcision in West Africa, proved to the world that old-time directors can still make a bold statement. Moolaade was directed by 81-year-old Ousmane Sembene of Senegal. Many reviewers feel that the film deserves to be nominated for an Oscar.
Though
Kinsey
also had a few scenes of frontal nudity, Bill Condon's deftly directed film about America's controversial sex researcher was well received, and created Oscar buzz for Liam Neeson in the title role.
But Lookas Moodyson's dark and sadistic
A Hole In My Head
took its own time to dwell on labial surgery and angered many people. Moodyson is one of Sweden's most respected and controversial filmmakers. His previous films have made a lot of money in Sweden and the rest of Scandinavia. But
A Hole In My Head
is a very disturbing, angry and violent film.
The film revolved around an amateur pornographer who relentlessly abuses a young actress and his shy young son who feels helpless that he can't stop the abuse. With its graphic depictions of disturbing sexual imagery, some of the viewers who stayed till the end said they felt devastated, admitting gingerly that the film was powerful and made a valid statement. Many walked out complaining that it was far more horrible than they had thought it to be. Some others said they were bored out of their wits
In
Anatomy Of Hell --
directed by self-proclaimed feminist Catherine Breillat -- a naked woman provokes a misogynist gay man into daring sex acts. The scenes in the film were so horrifying that one critic wrote that it looked like 'something they show to the soldiers before they go overseas.'
But Breillat is not is easily perturbed. She believes explicit sex, even what some may call gory sex, is better than Hollywood's preoccupation with guns and violence.
"It's far worse than hypocrisy -- we're dealing with denial," she said, after a screening of her film.